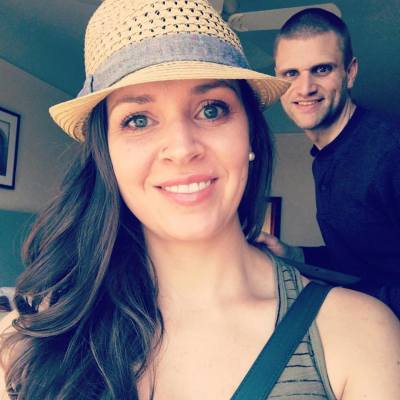 Your home should be your happy place.

​ Somewhere you can go to relax and get away from the world. A place to call your own. I feel like many people put off home renovations because the time and money involved. I'm here to show you sprucing up your home doesn't have to cost thousands of dollars or take up all of your time. I'll show you how I am working to create my dream home in my spare time with my spare change. 
Check Out My Latest Posts
Wardrobe Overhaul
Bathroom Reveal
Ashley's Room
Ty's Room
Vacation Days: Singapore Style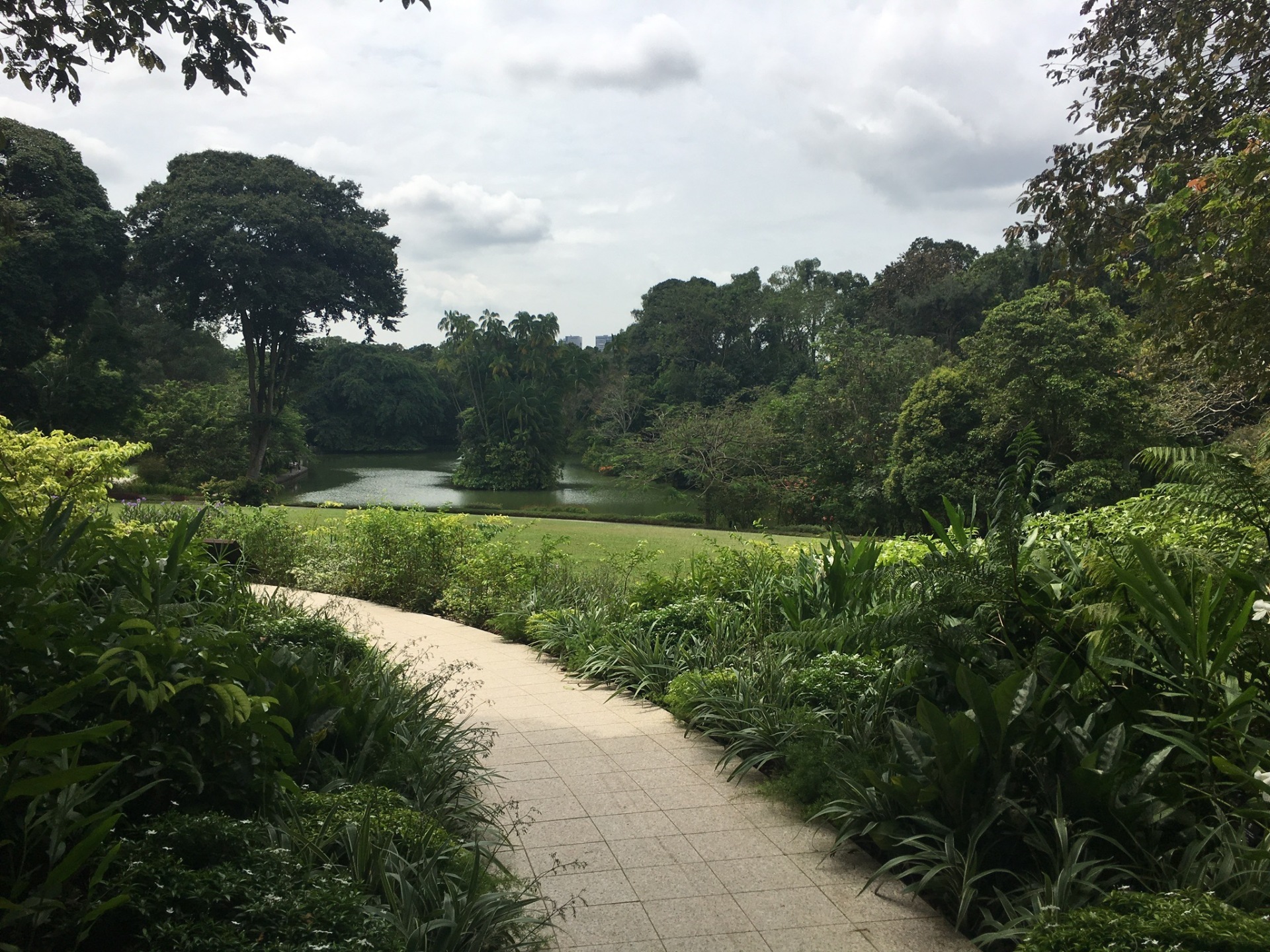 Ty and I are starting to realize how fortunate we are that he has the opportunity to travel for work. Prior to Singapore, he would go on his trips alone; only going to work and not take any vacation opportunities.  He was excited to see Singapore on his work itinerary this year and we thought it would be a good time to experience the world together.

This was my first trip out of the country (besides Canada, which I don't think counts since we are so close here in Seattle) and I was really nervous so I did a lot of research before the trip.

I wanted to make the most of every second there. The trip turned out to be an unforgettable experience and beyond anything I could have imagined. 
Day One: Sunday-Gardens By The Bay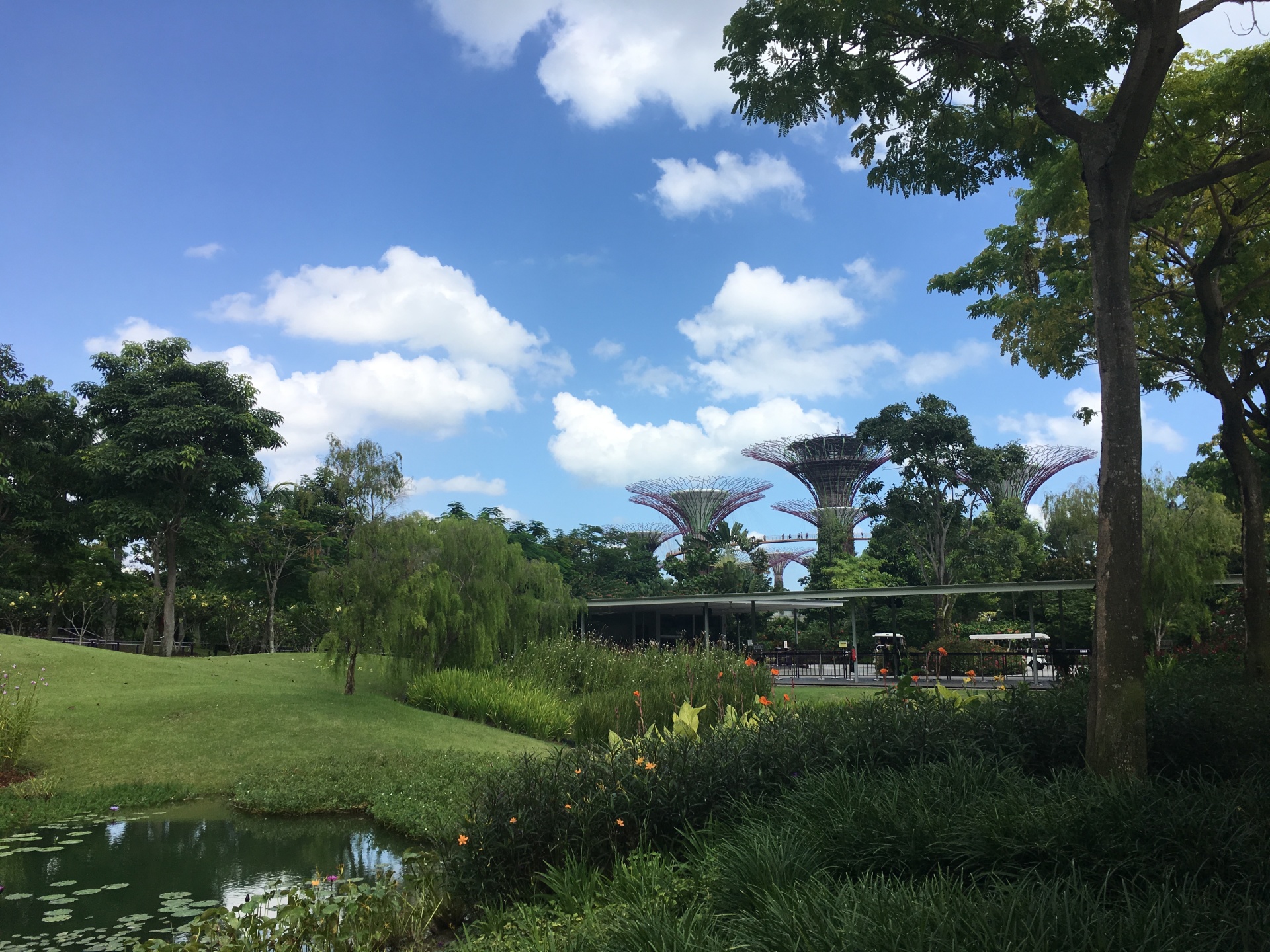 We arrived
in Singapore on Sunday around noon after 21 hours of travel from Seattle. Since this was my first big trip I had no idea how I would react to the time change. Fortunately, I was able to sleep a lot on the plane and when we arrived I was wide awake and ready for some sight-seeing. We got to our hotel, freshened up and set off to explore the city.
The first thing
EVERYONE talks about in Singapore is the Gardens By The Bay Park, so I knew we needed to make that our first stop. It's a beautiful park in the heart of the city that features amazing (and huge) Tree sculptures. The sculptures have succulents planted up the sides and are there to help combat pollutants from the ship traffic on the bay. They are beyond beautiful and nothing like I have ever seen before. You can even walk on a suspension bridge between them and get a great view of the city and water. A must see if you are ever in the city.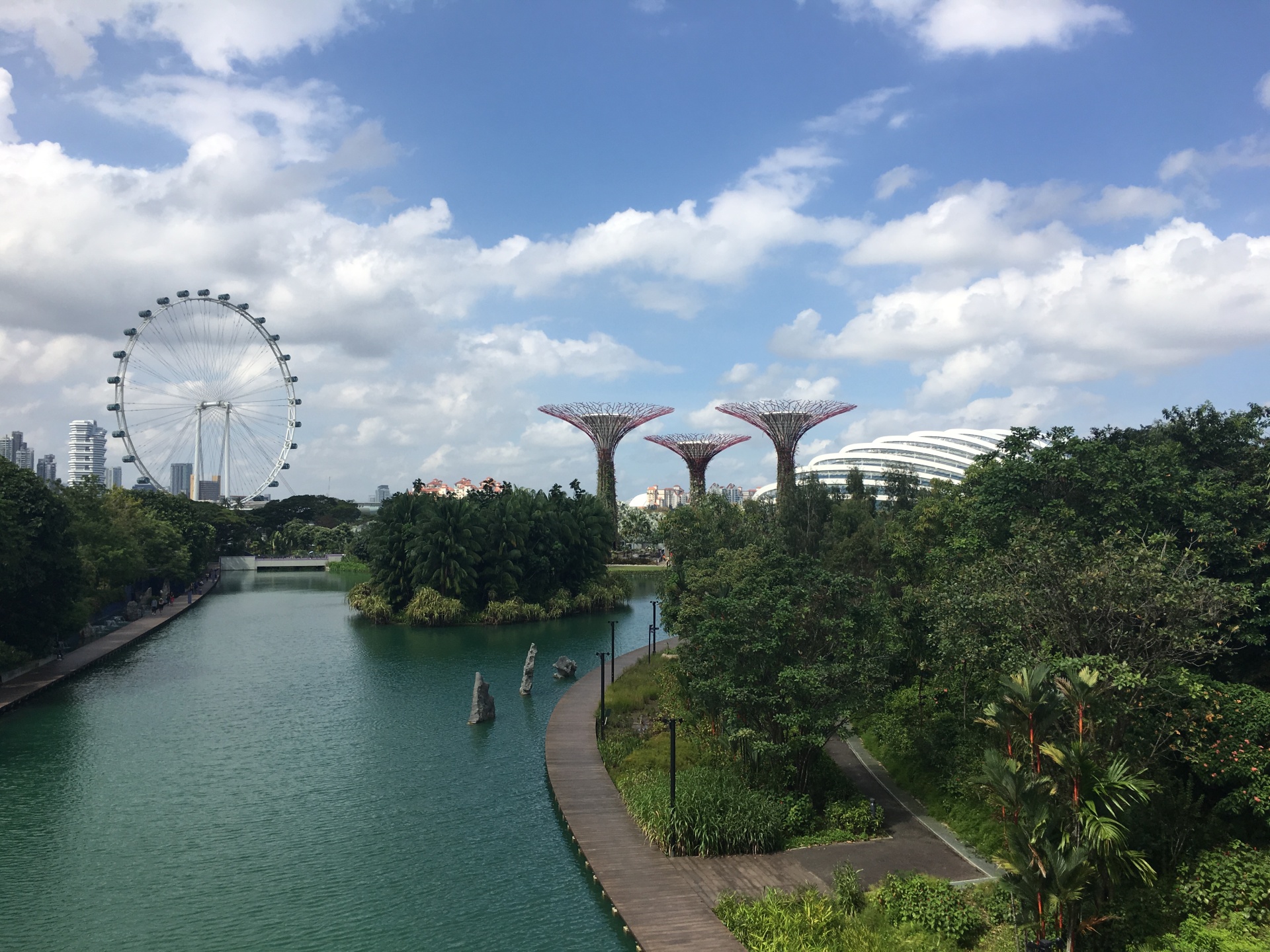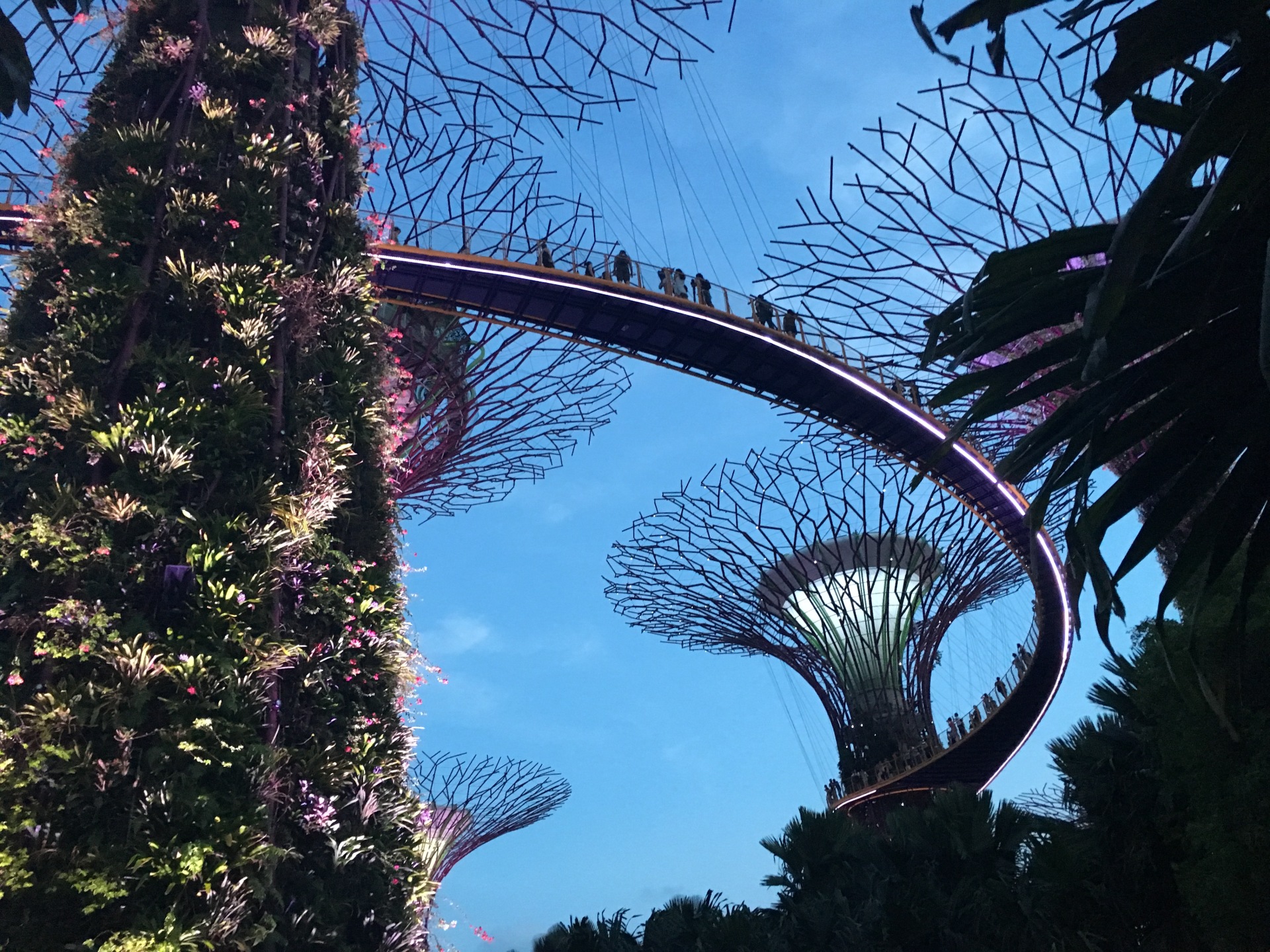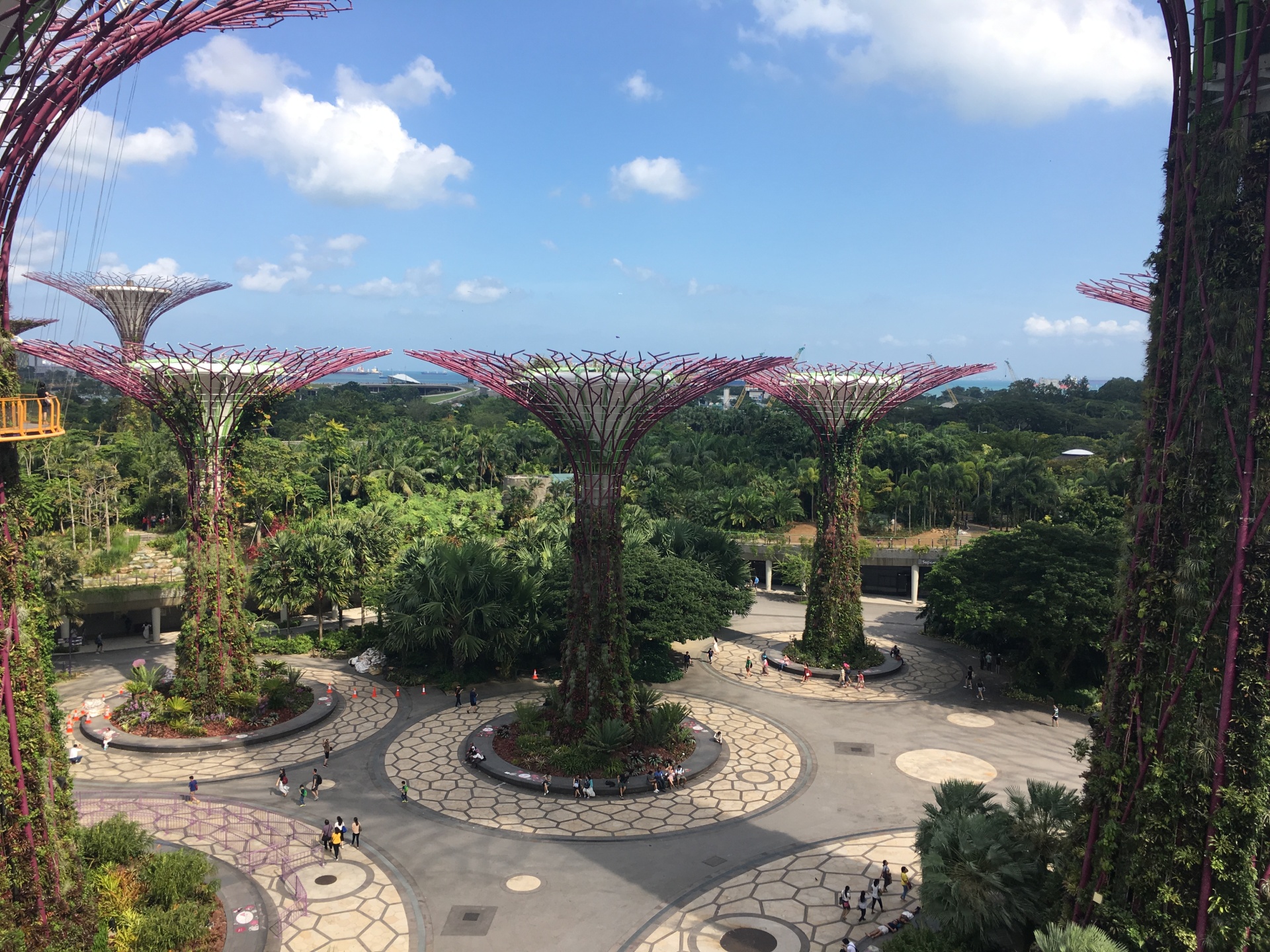 The park had a river walk and lots of local vegitation. There were plants and flowers all over the city but the park was especially beautiful. They had a few shops and restaurants in the park and even had a small water park for the kids since it was about 85 degrees.  

The trees were even more beautiful at night. They lit up purple and green. There is also a daily light show that is in the park on the water front. 

This is from the bridge between the trees. You can see how tiny the people below look. Like I said, these things are huge. They offered a very unique view of the bay and the city.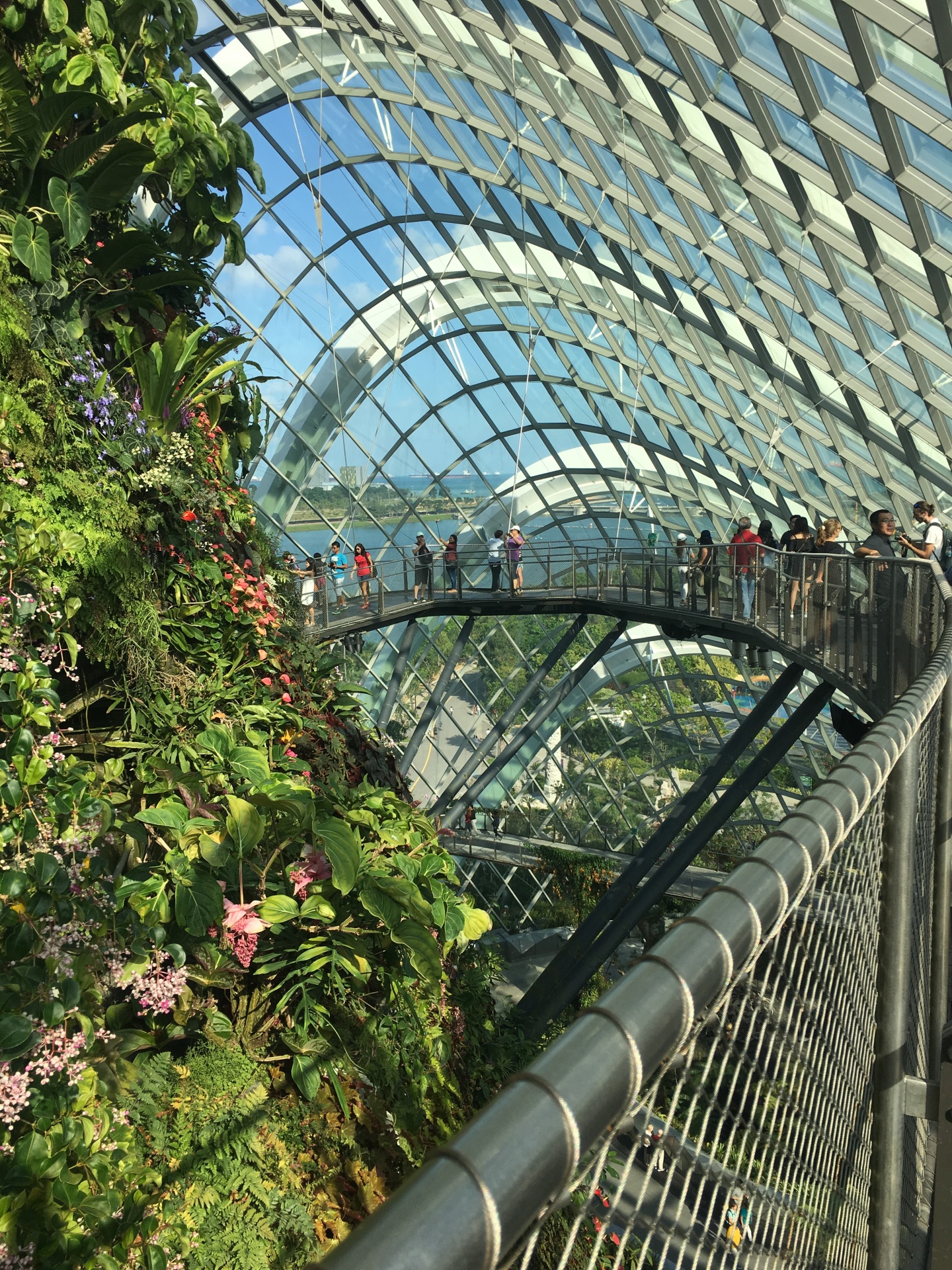 Also

in the park there were two domes, one called "The Cloud Forest" and the other was "The Flower Dome" We bought tickets for about $20 USD which got us into both domes. The Flower Dome was kind of a letdown after the Cloud Forest, if I were to go back I would have saved a little money and gone with only the Cloud Forest ticket.
 The Cloud forest was rain forest type plants, planted into the side of a waterfall that you could go into and around. The flowers were beautiful and they had local native wood carvings displayed.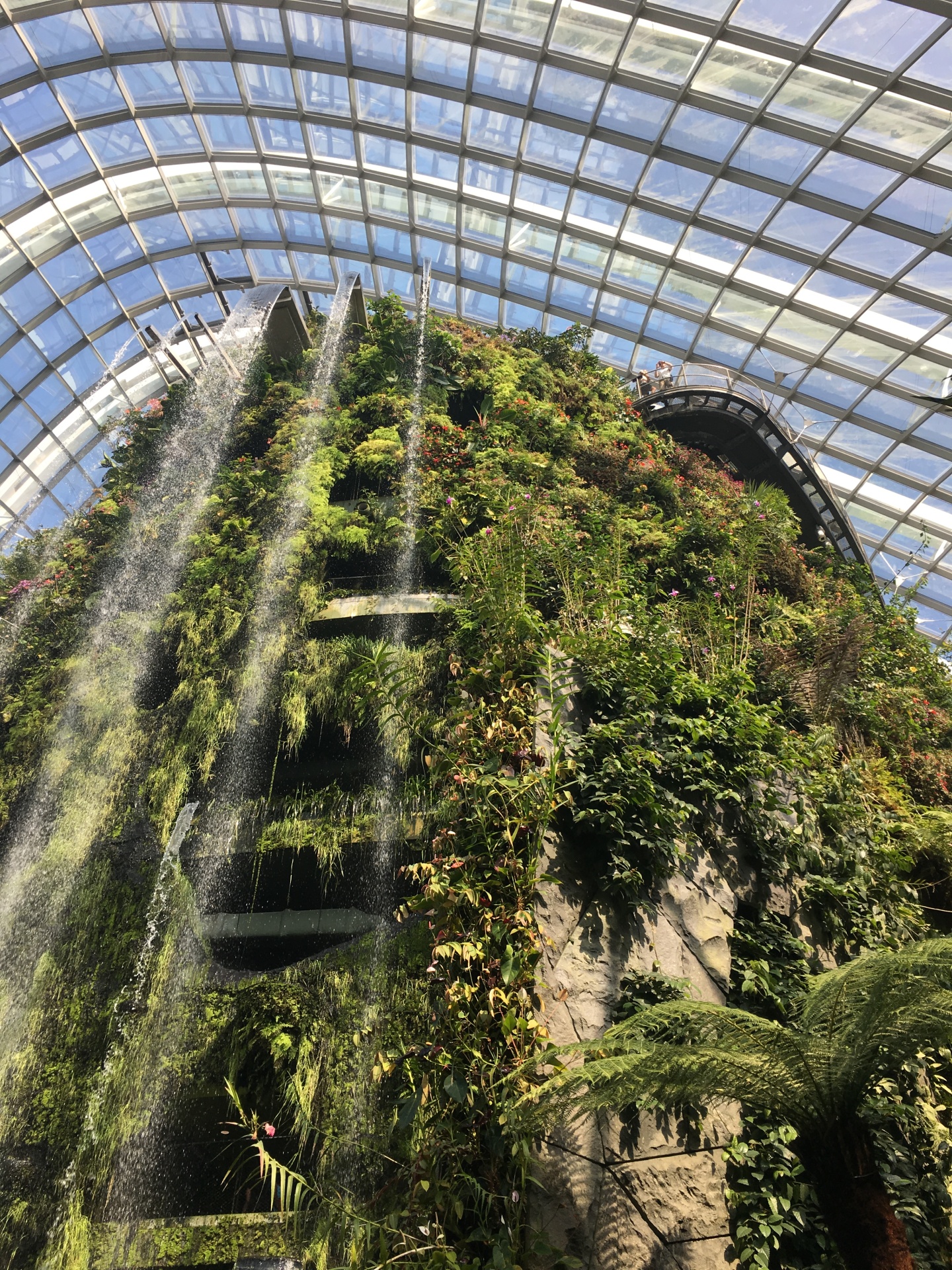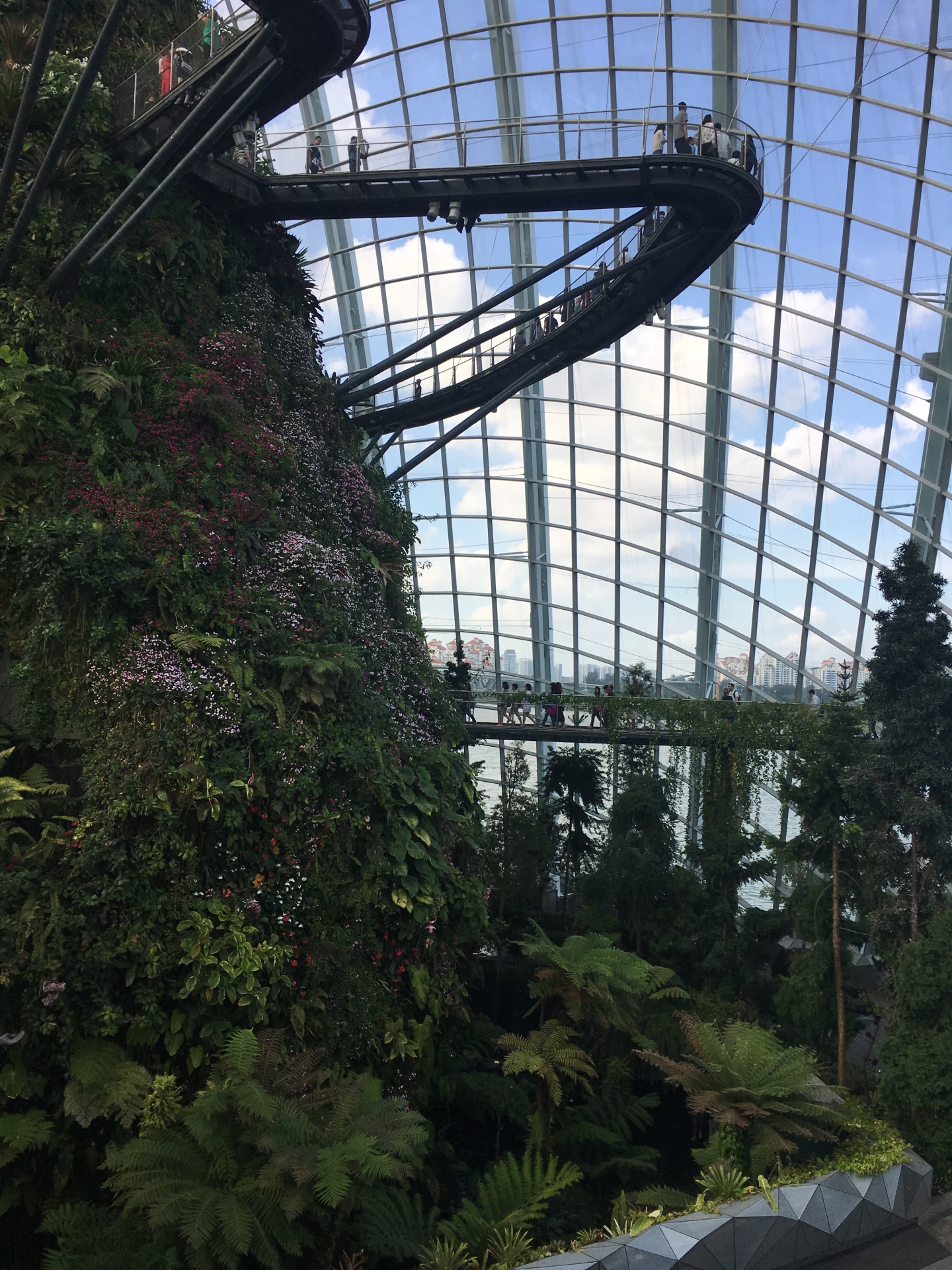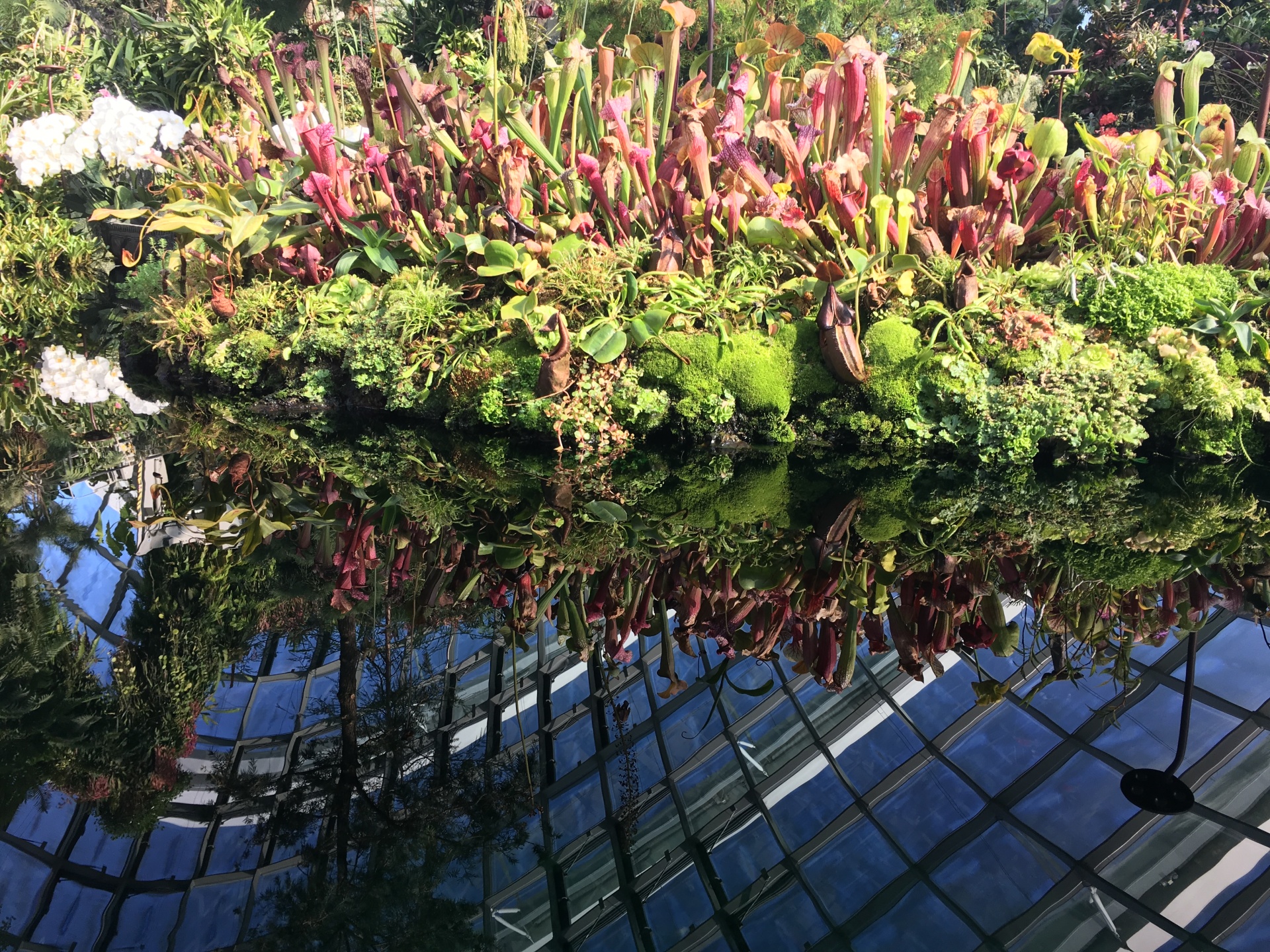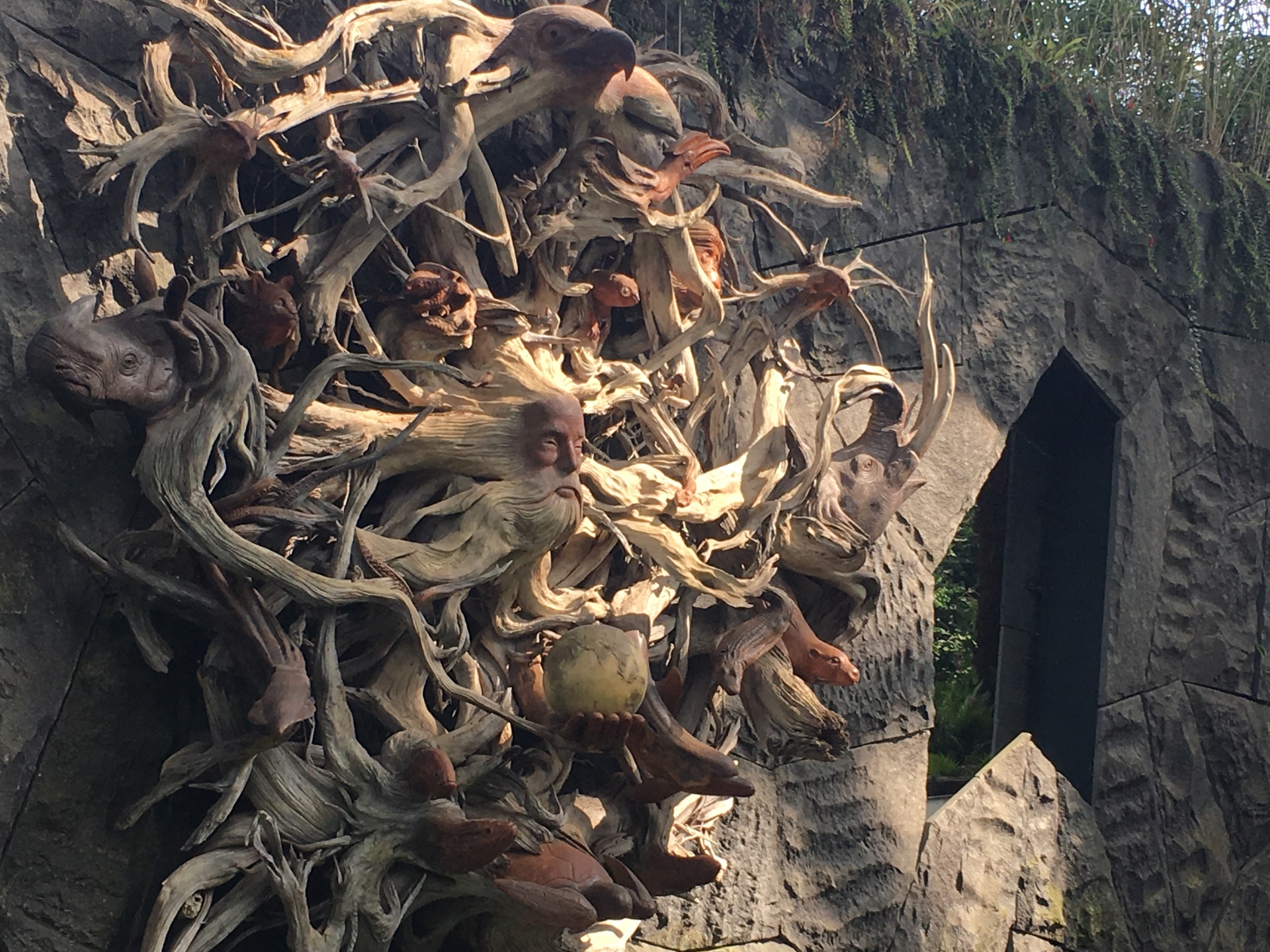 Day Two: Monday-Bugis Station and Haji Lane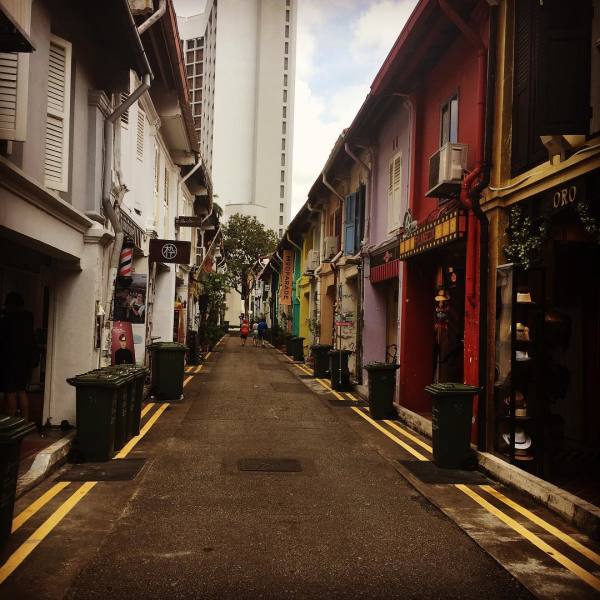 Since this was a business trip for Ty he had to go to work, so Monday I was off to explore the city on my own. I had research a lot about safety and I knew that it would be ok to venture out alone. My first solo day I decided to take my time and get used to the transit system.

Thankfully the transit system was similar to NYC and extremely cheap, especially during non-peak hours.
My first stop was Bugis Station. There are shopping centers near all of the larger transit stations and Bugis was one that got a lot of attention. They had a big modern mall with lots of neat shops. Across the street was a local market with vendors and lots of street food. I loved the market but if you don't like big crowds in small spaces, this one is not for you. Pretty much every vendor sold "juice" which was just fresh fruit blended with ice. It was so good and so cheap it was about 60 cents for one juice. My favorite was the watermelon-guava. It was the perfect treat to beat the hot weather.

A short walk from Bugis station was Haji Lane. It was such a cute area of town with old architecture and lots of street art. There were a ton of shops there but I didn't buy anything because it was all the same stuff that was at the Bugis market but market up for some reason (the same shirt was $40 at Haji Lane and $15 at Bugis). It was super cute and totally worth the photo op though!
While in that same area I walked over to Little India. The buildings were beautiful but I could tell it wasn't as tourist friendly as the other parts of town. I walked around for a little while and made my way back to my hotel. I didn't take too many pictures; I think I was busy trying to take it all in.
Day Three: Tuesday-Botanical Gardens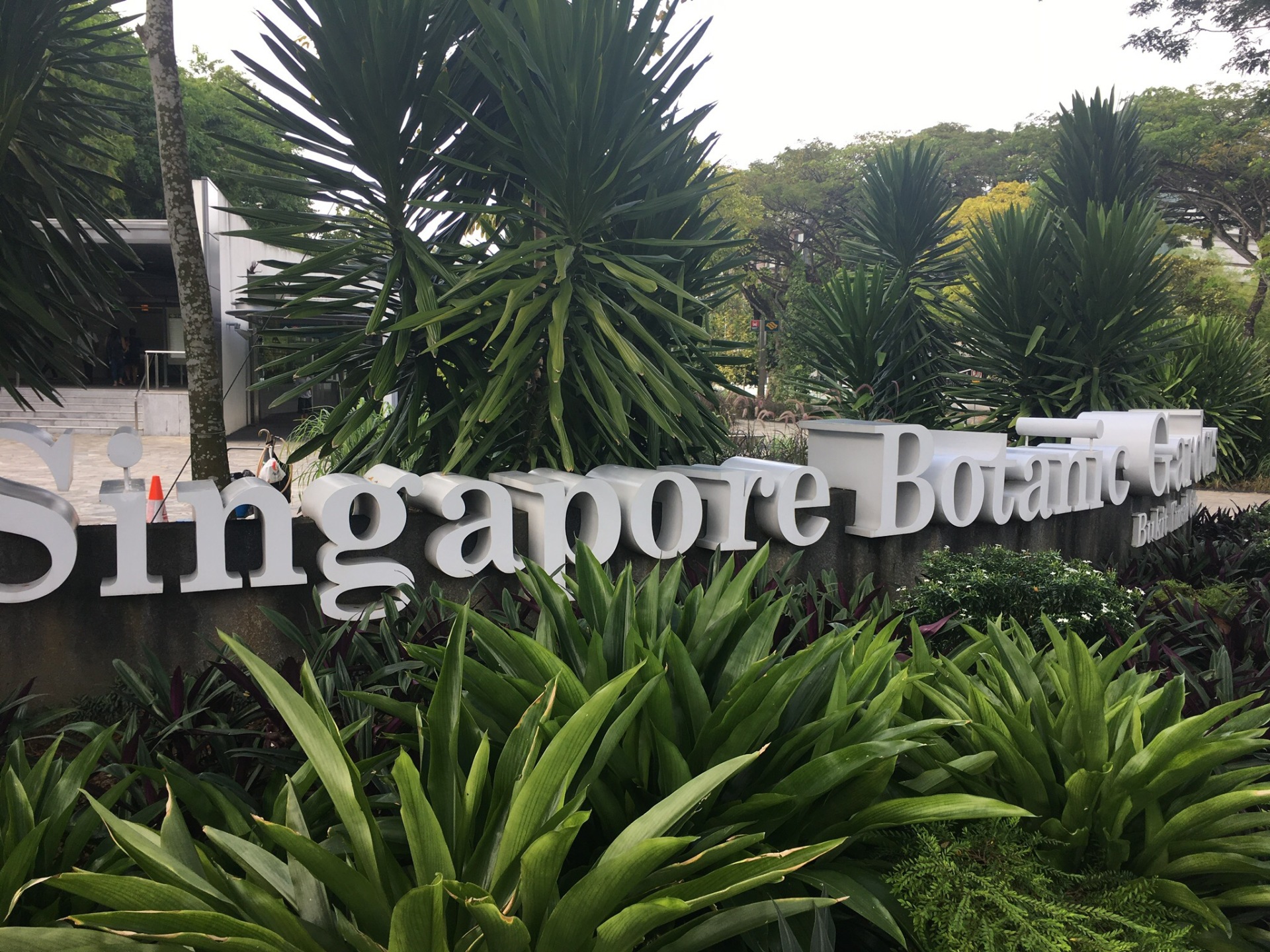 On day three
I felt a little more comfortable with the transit system and decided to venture a little further outside the city. My plan was to find The Singapore Botanic Gardens and that's exactly what I did. Picture NYC's Central Park but in Hawaii. It was such an interesting place and it was totally free! If you're headed here make sure you bring lots of water and some snacks. It's hot and there isn't a lot of shade or air-conditioning available.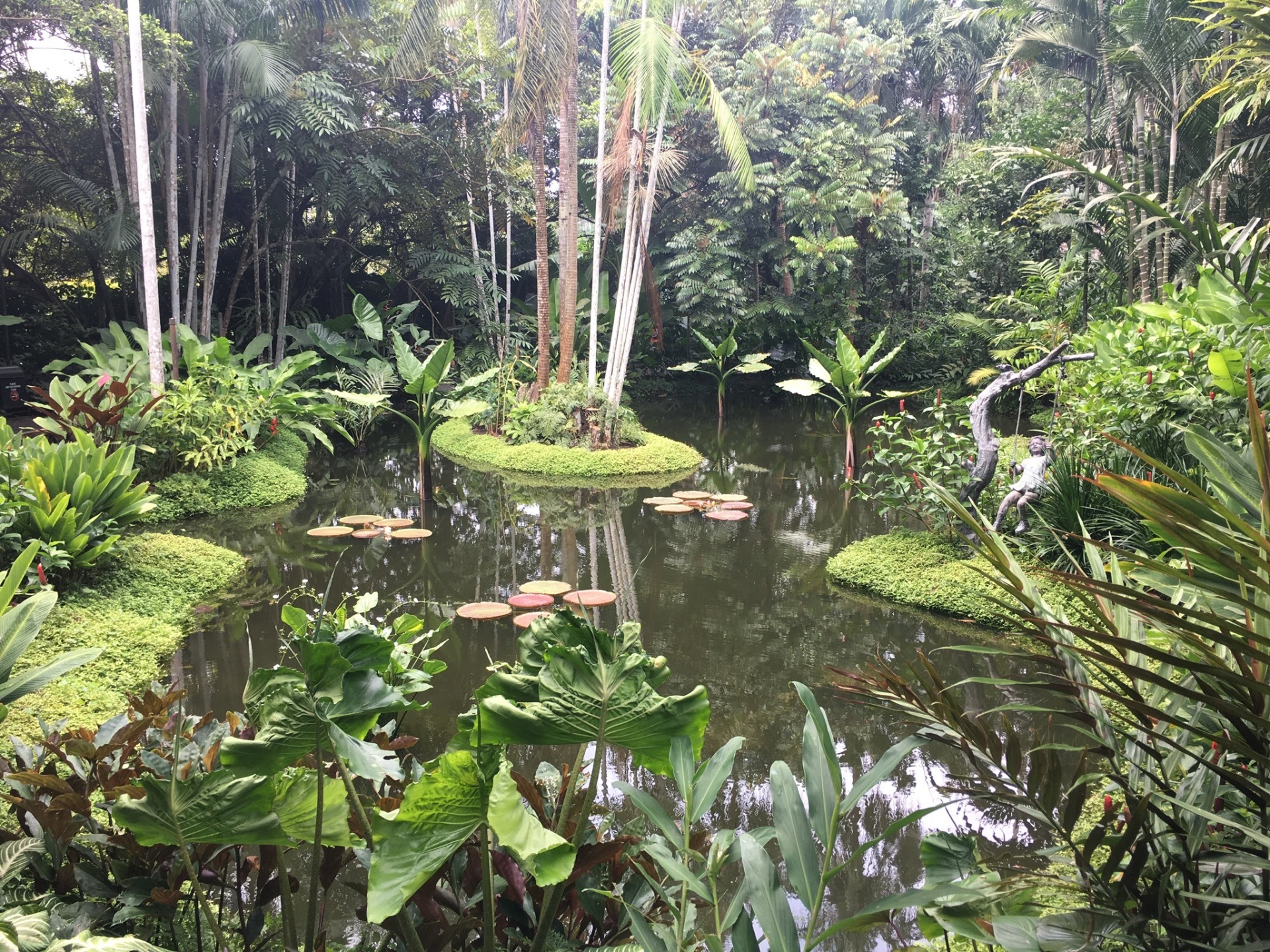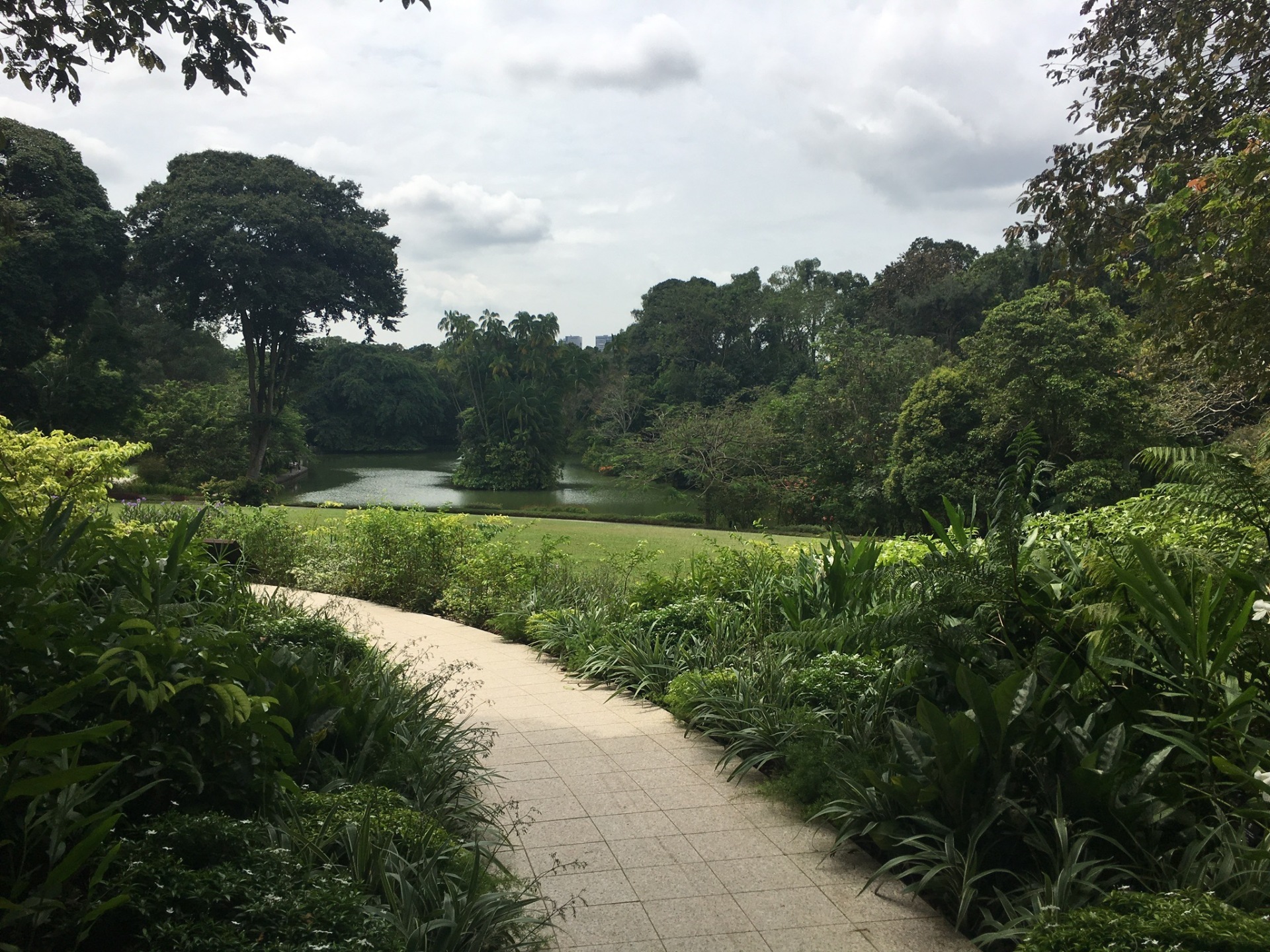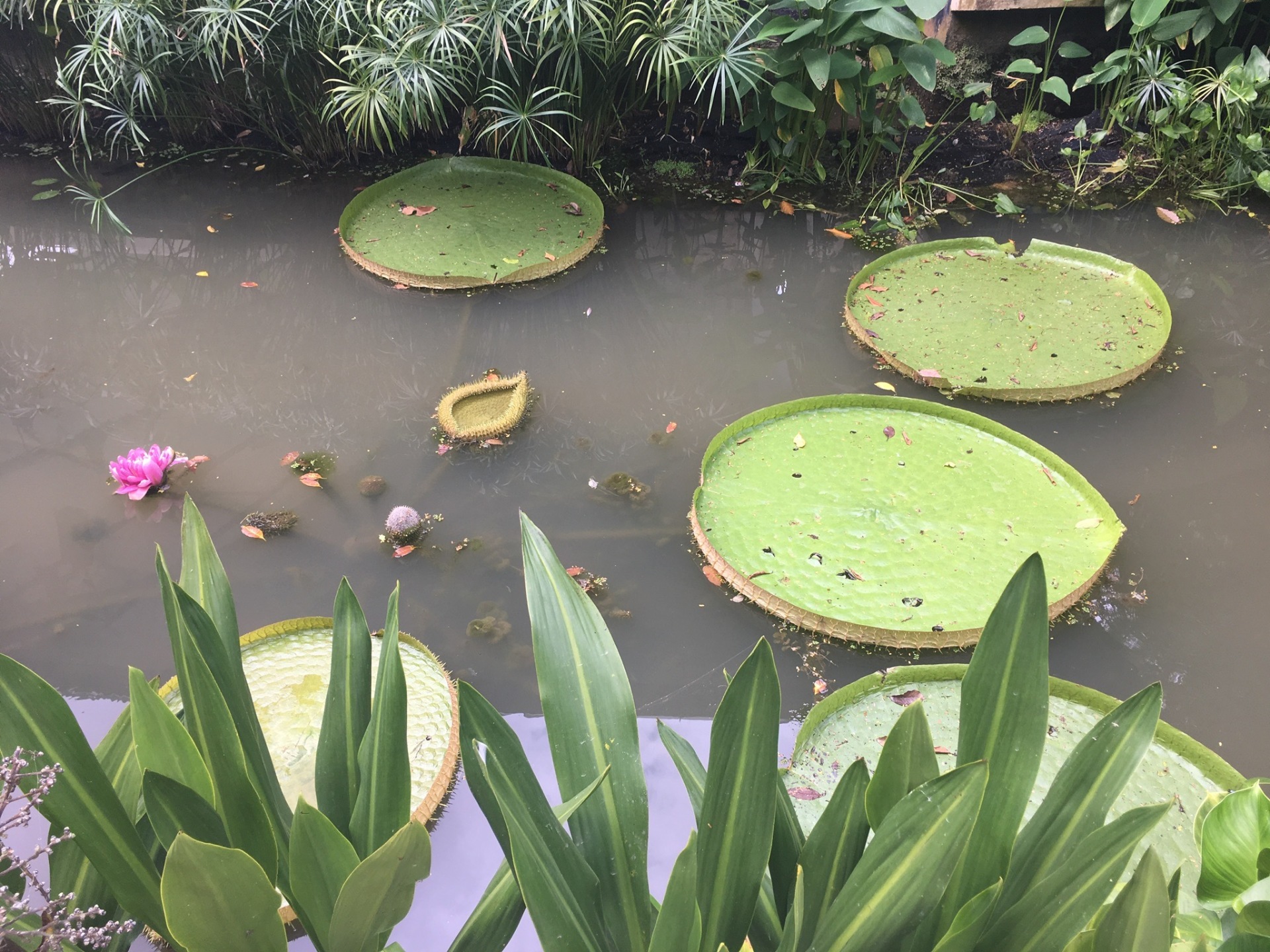 Pretty Ponds.

Everywhere you look there is more beautiful scenery.
Swan Lake.

There was actually a huge family of swans but they were hiding in the shade.
Weird Lilly Pads.

These were huge and a little scary looking.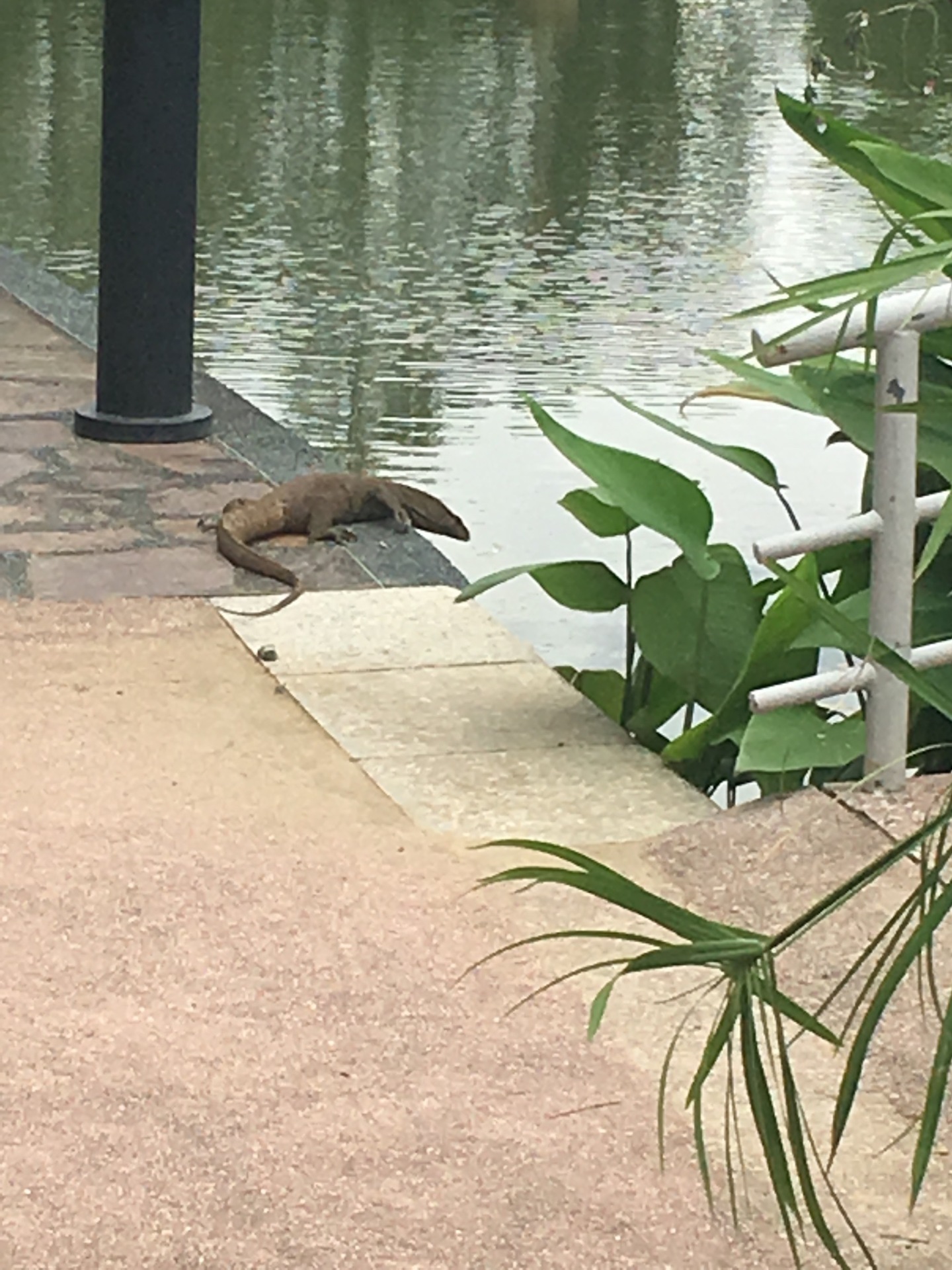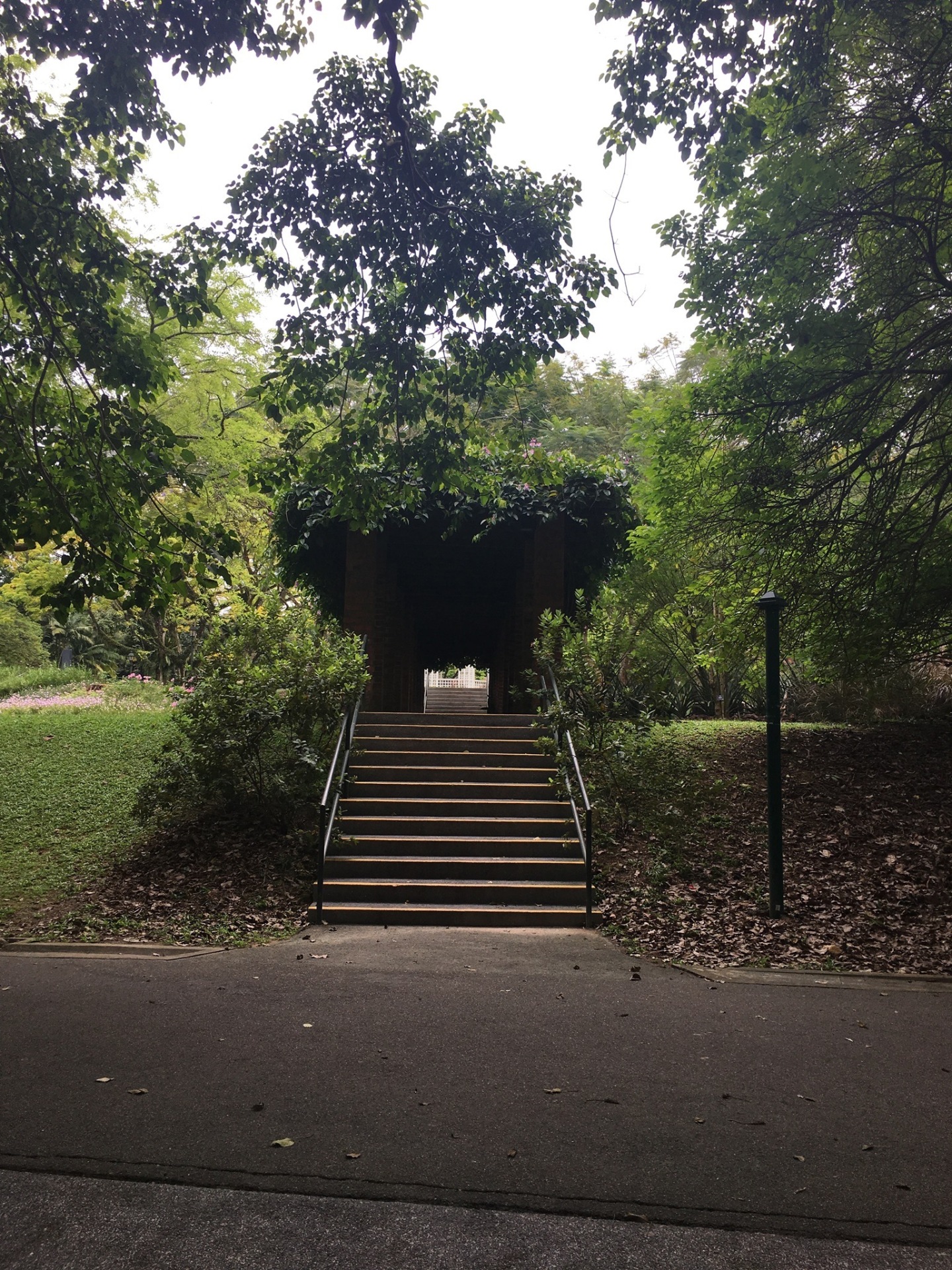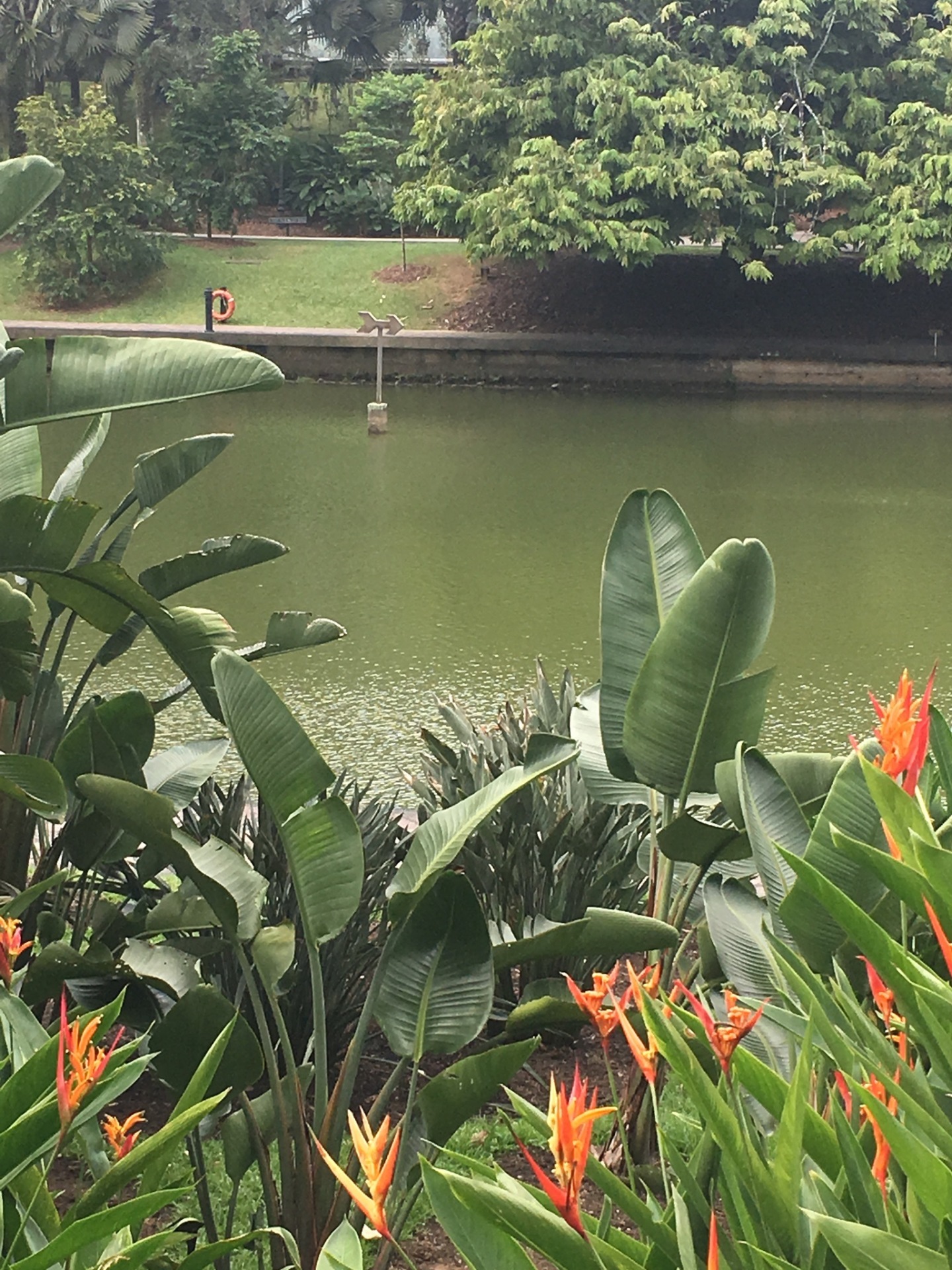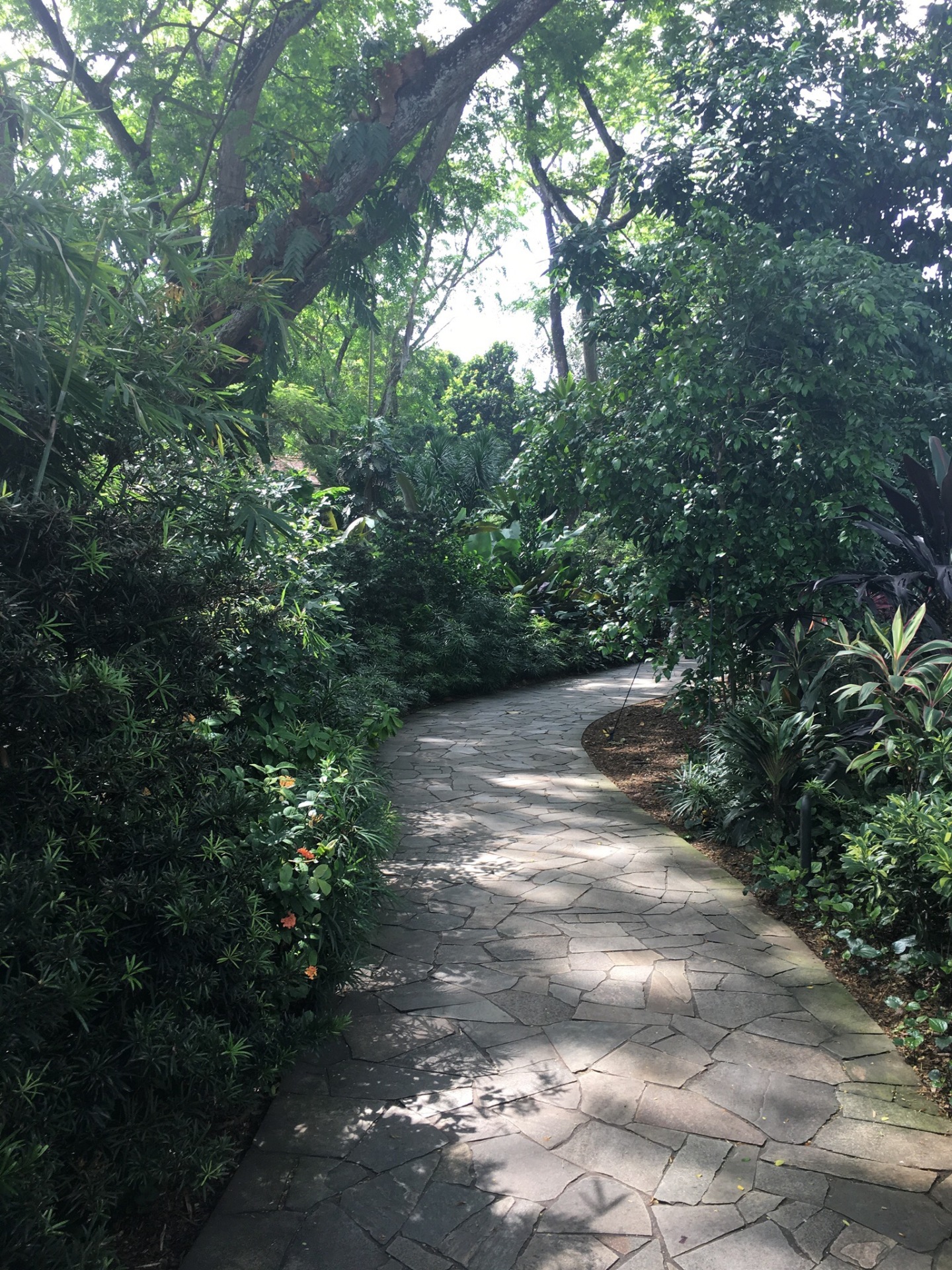 Lizards. 

These guys were everywhere and they could swim.
Arbor. 

Everything was so pretty and well maintained.
Arrow. 

The arrow points to london England, for some reason.
Pretty Paths. 

I could have spent days just wandering these paths.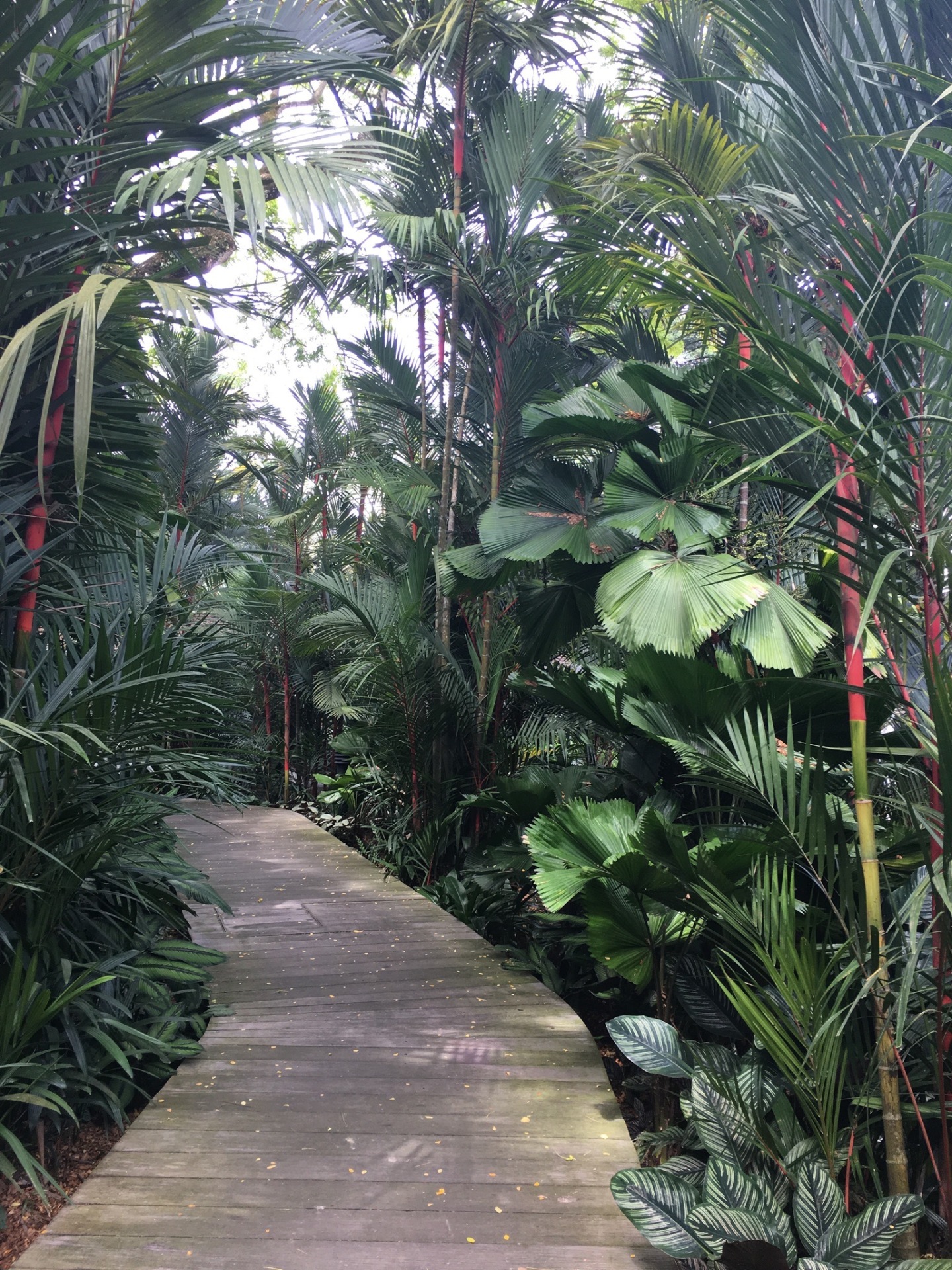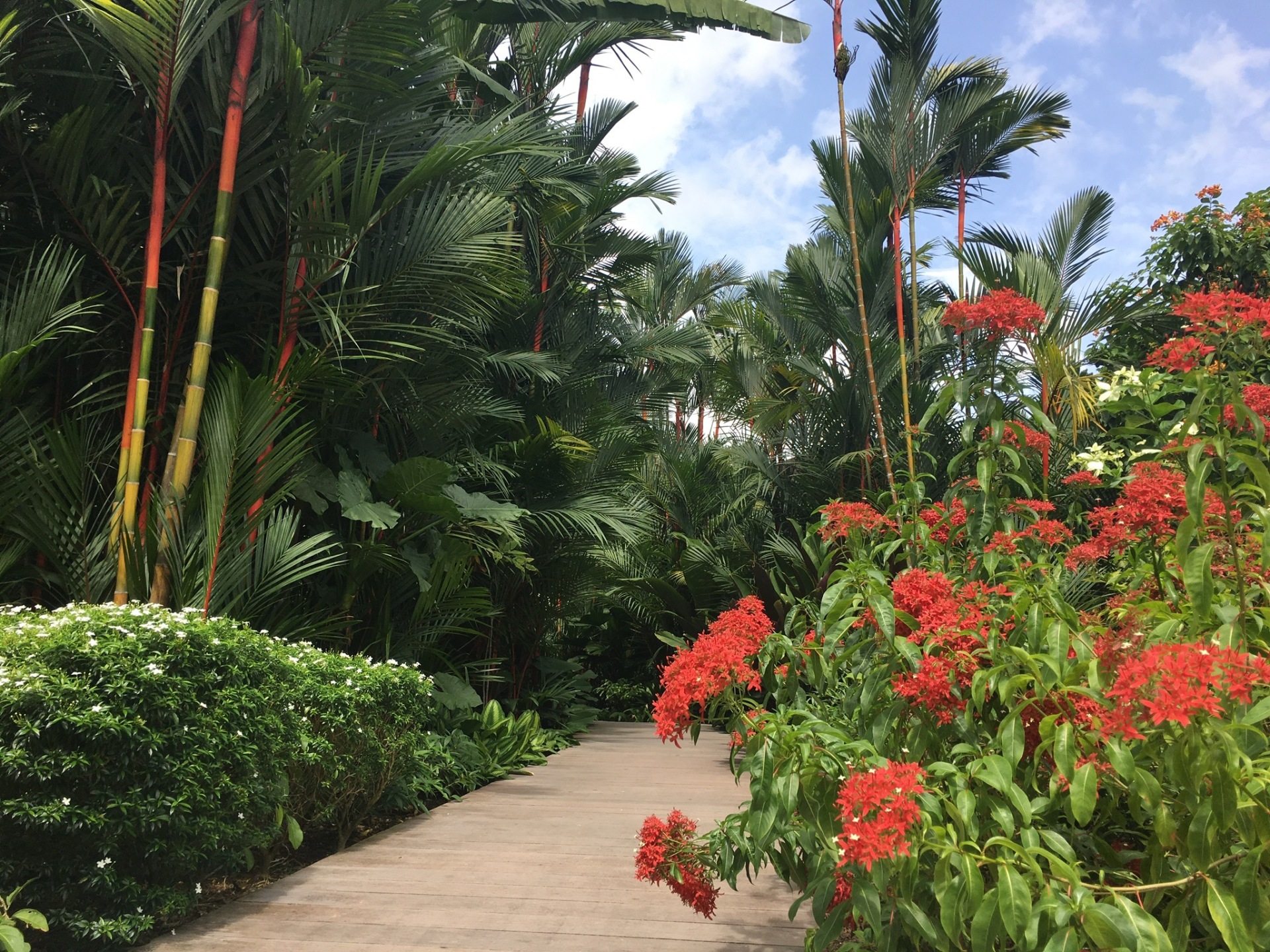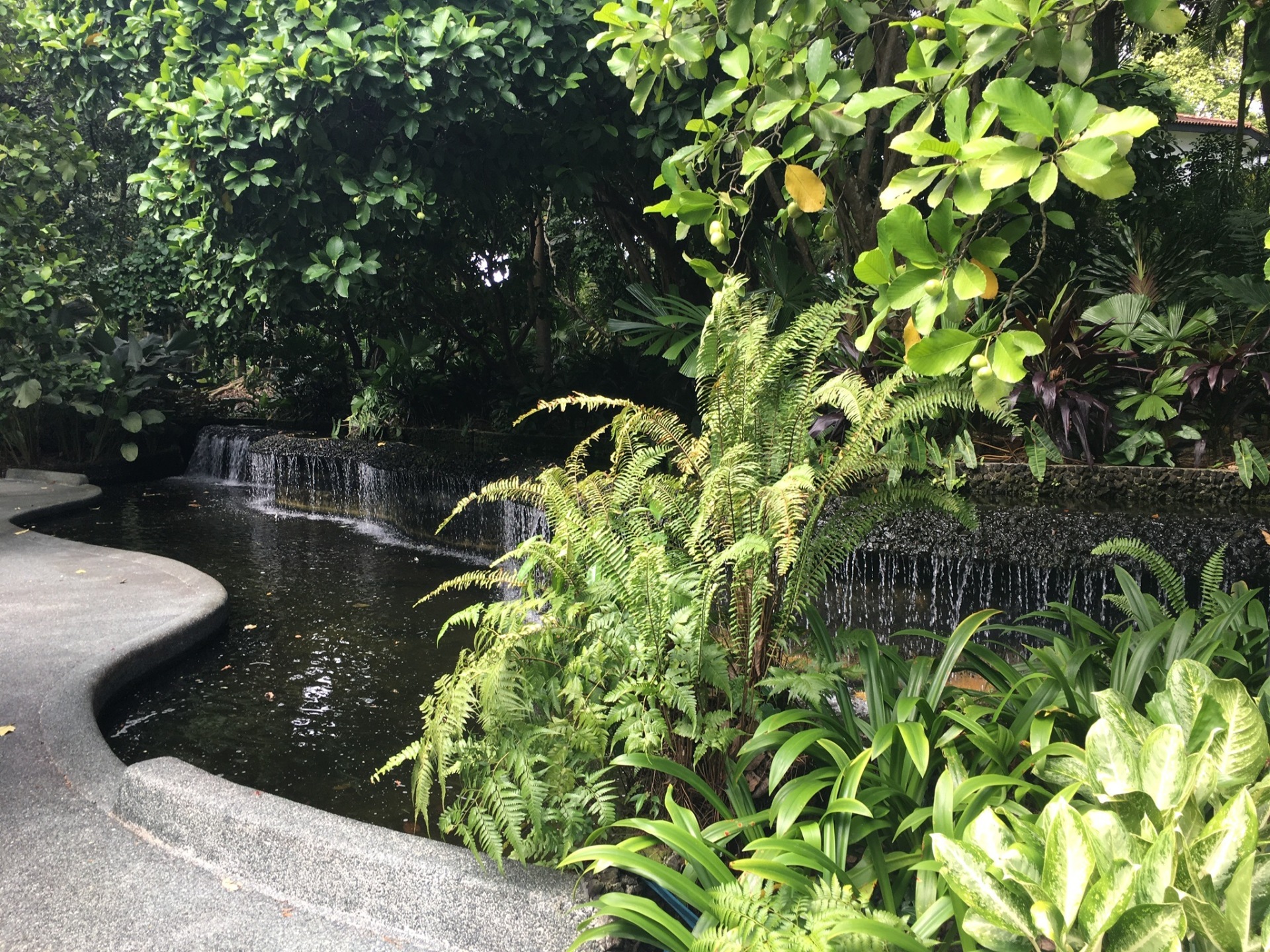 Flowers. 

The flowers were so vibrant.
Foutains. 

They really love their fountains.
Boardwalk. 

The last stoll I took was down the beautiful boardwalk. 
After walking
around in the heat and humidity all day, I went back to the hotel and slept until Ty got off work. Being in the heat constantly is very tiring. After Ty was home we rushed out to a local park to catch the sunset and talk a walk. It's nice that it stays nice and warm for so late in the evening. Ty was also very excited that he was going to try KFC's "Chizza" Yes, that's right. Pizza made on top of a piece of fried chicken. (They seemed to have a thing for fried chicken, there were KFC's and Popeye's all over).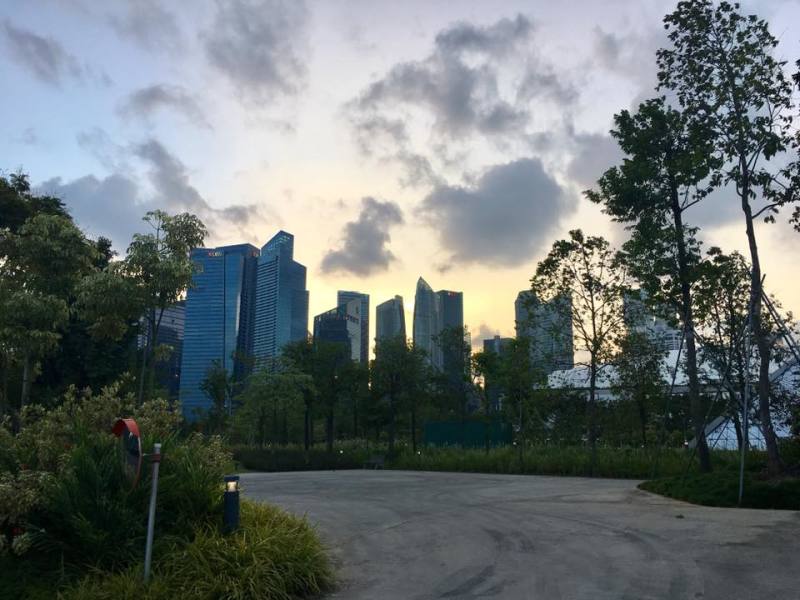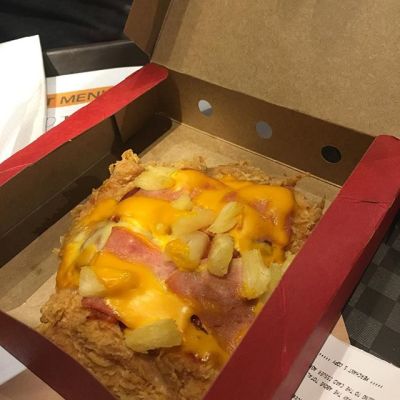 Ty said it was really good but that he should have picked pepperoni toppings rather than Hawaiian style. He said the pineapple and chicken was a little weird.
Day Four: Wednesday-Shopping and Pool Side Reading

Wednesday
, I took some time to go shopping and just chill. There was a big shopping center at the transit station near our hotel and I went across town to a different shopping center. I was hoping to score on some cheap fashion but most prices were similar to home. I picked up a few things but nothing I can't get in Seattle. After I got back to the hotel I took some time to sit by the pool and read a book. It had been raining earlier so it wasn't crazy hot but still nice pool side weather. I knew Thursday was going to be a long day so I decided to take it easy that afternoon.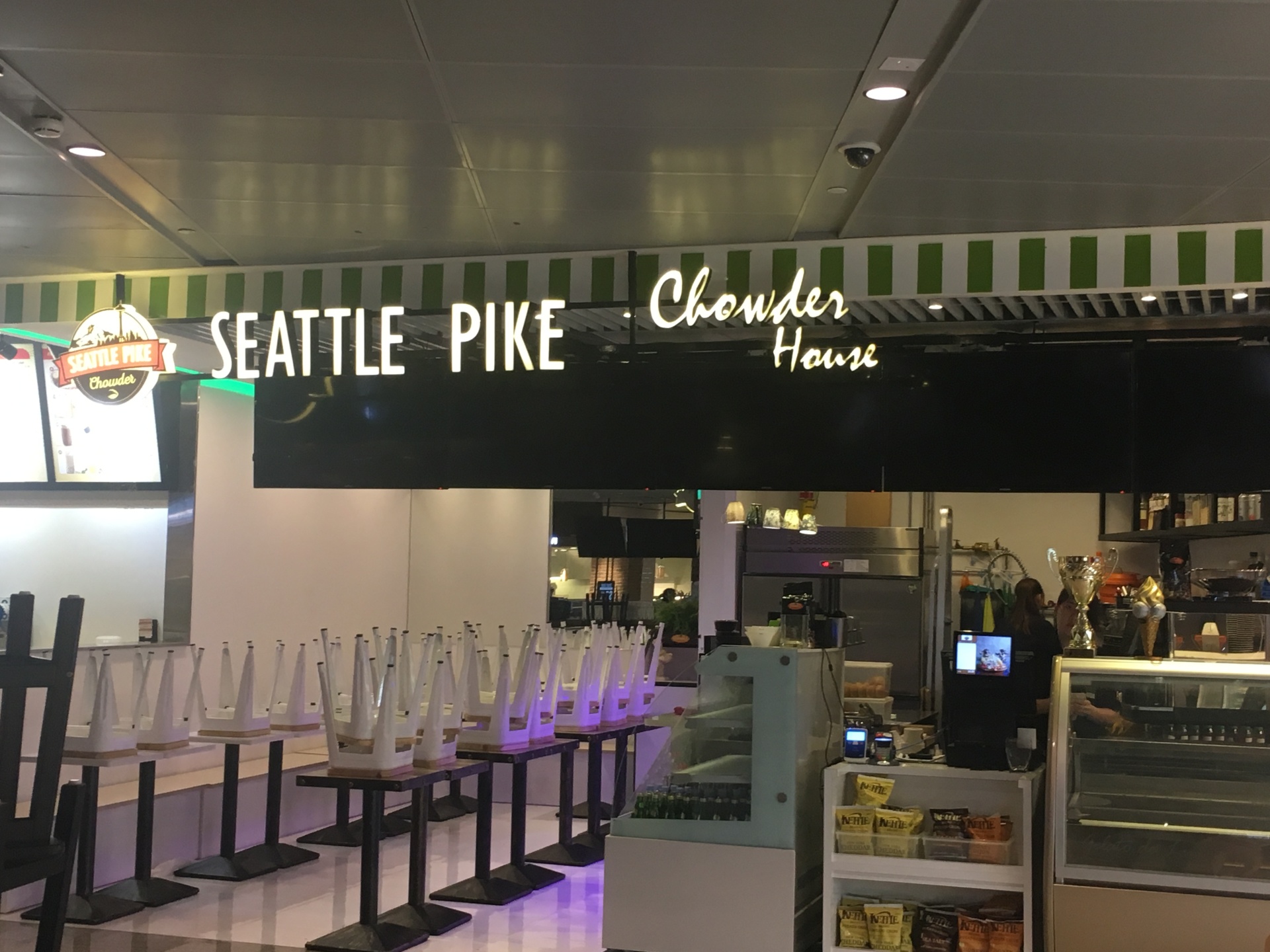 One of the restaurants

in the transit center made me feel like I was home. Another place next to this called Hans had the BEST coffee. It was just black coffee but they must have brewed it differently. It was naturally very sweet tasting and had no acidity like most coffee in the states. I'm still trying to figure out what they did but I will find a way to make it at home!
Day Five: Thursday-Zoo and Night Safari

I apologize
in advance for the photo overload on this one. The zoo was probably one of the best parts of the entire trip it was beautiful and you could tell they really love their animals. I spent all day there and after Ty got off work he met me at the Zoo grounds and we went to the "Night Safari" it was basically a whole other Zoo but featured all nocturnal animals. It was super cool and I would suggest it to anyone but none of the pictures turned out since it was so dark. The Zoo is a must if you ever visits Singapore!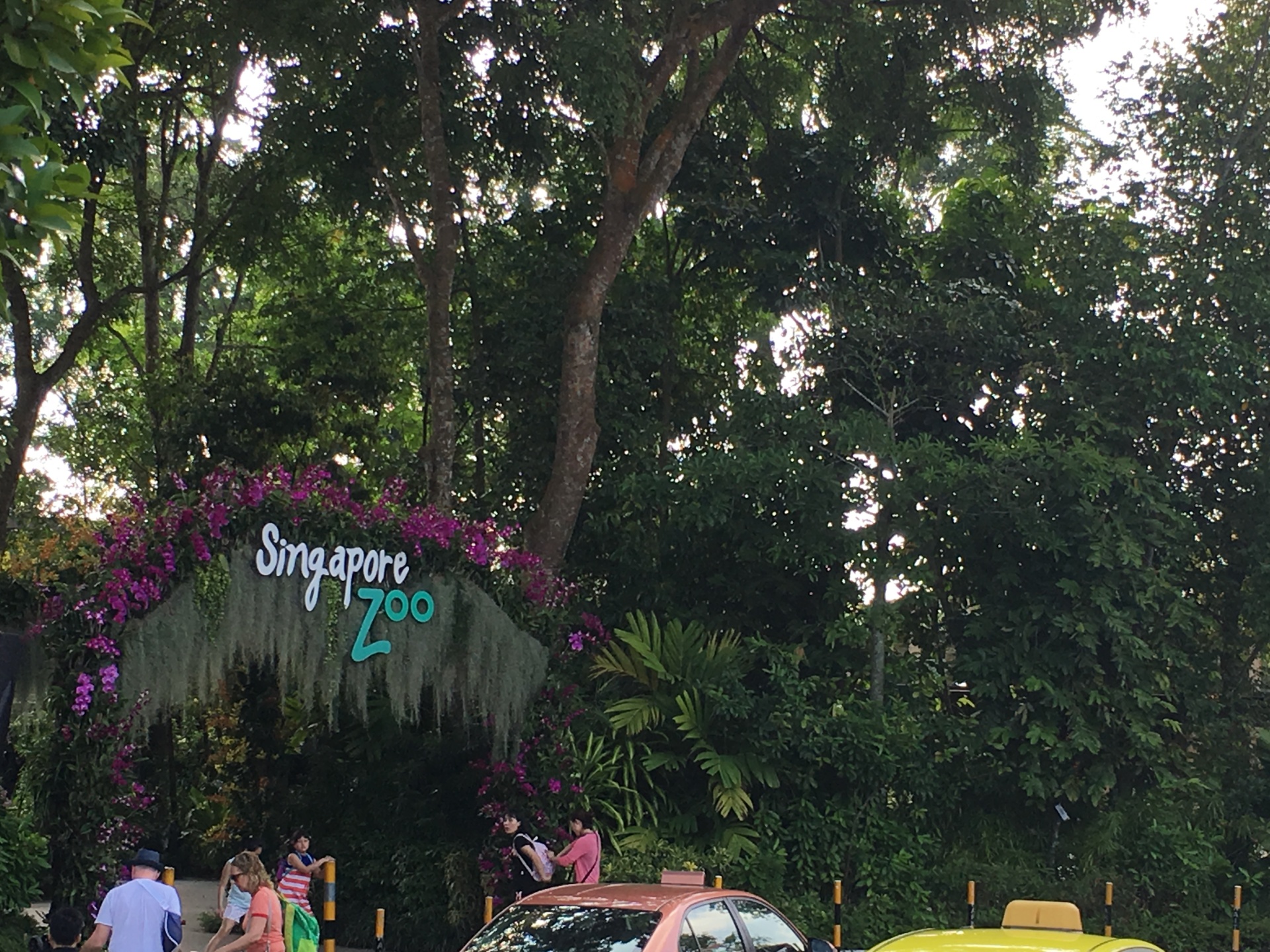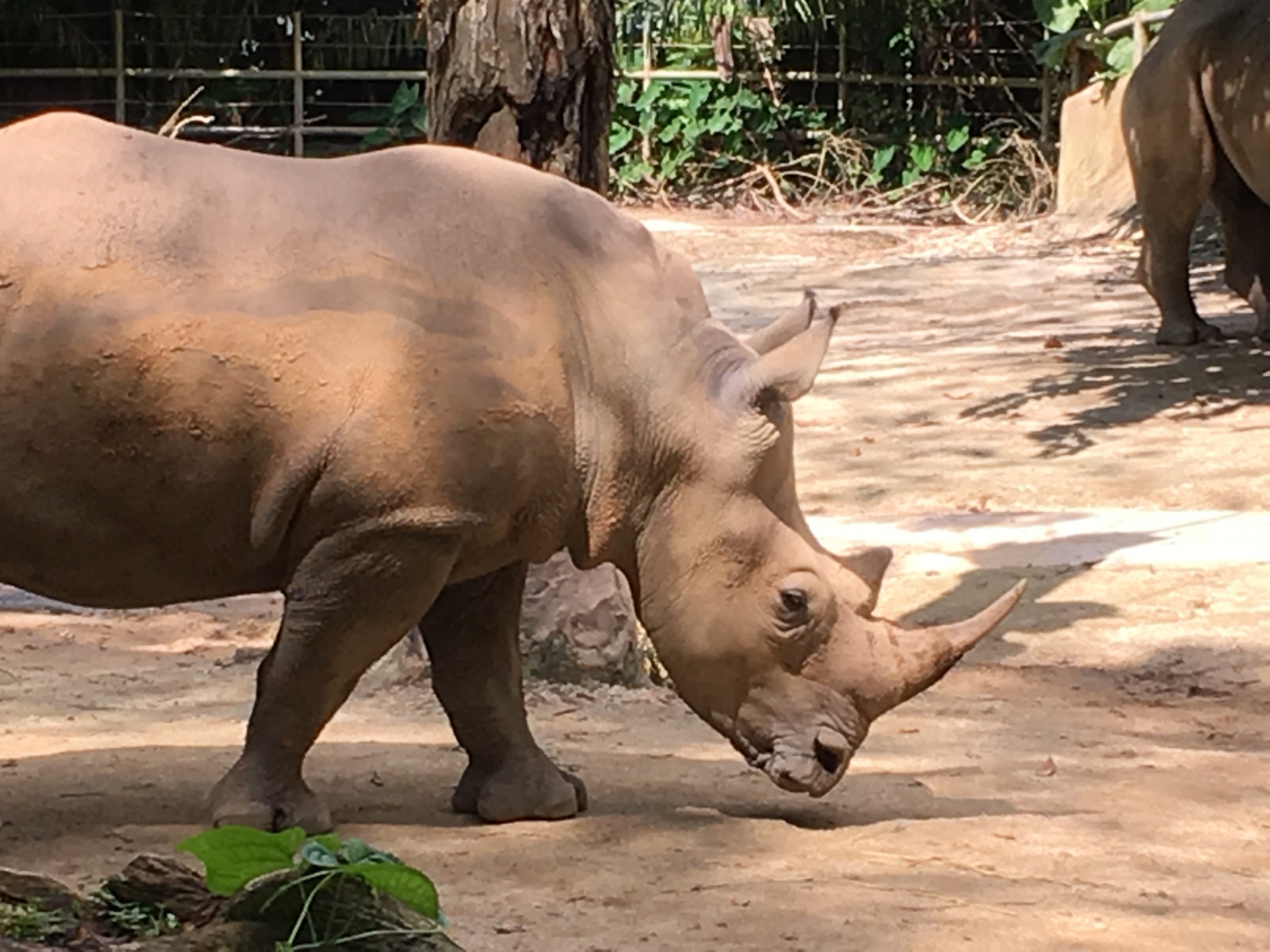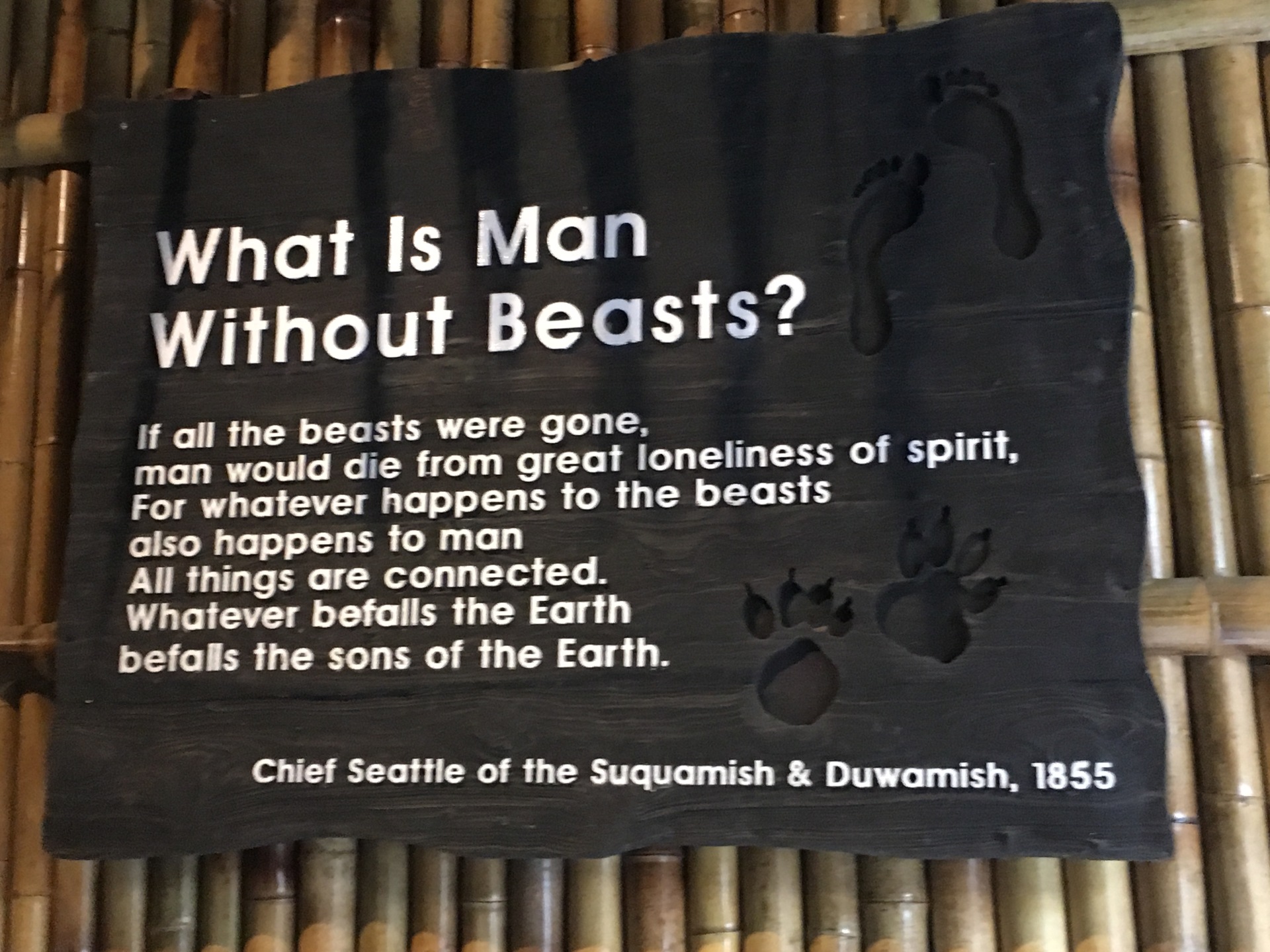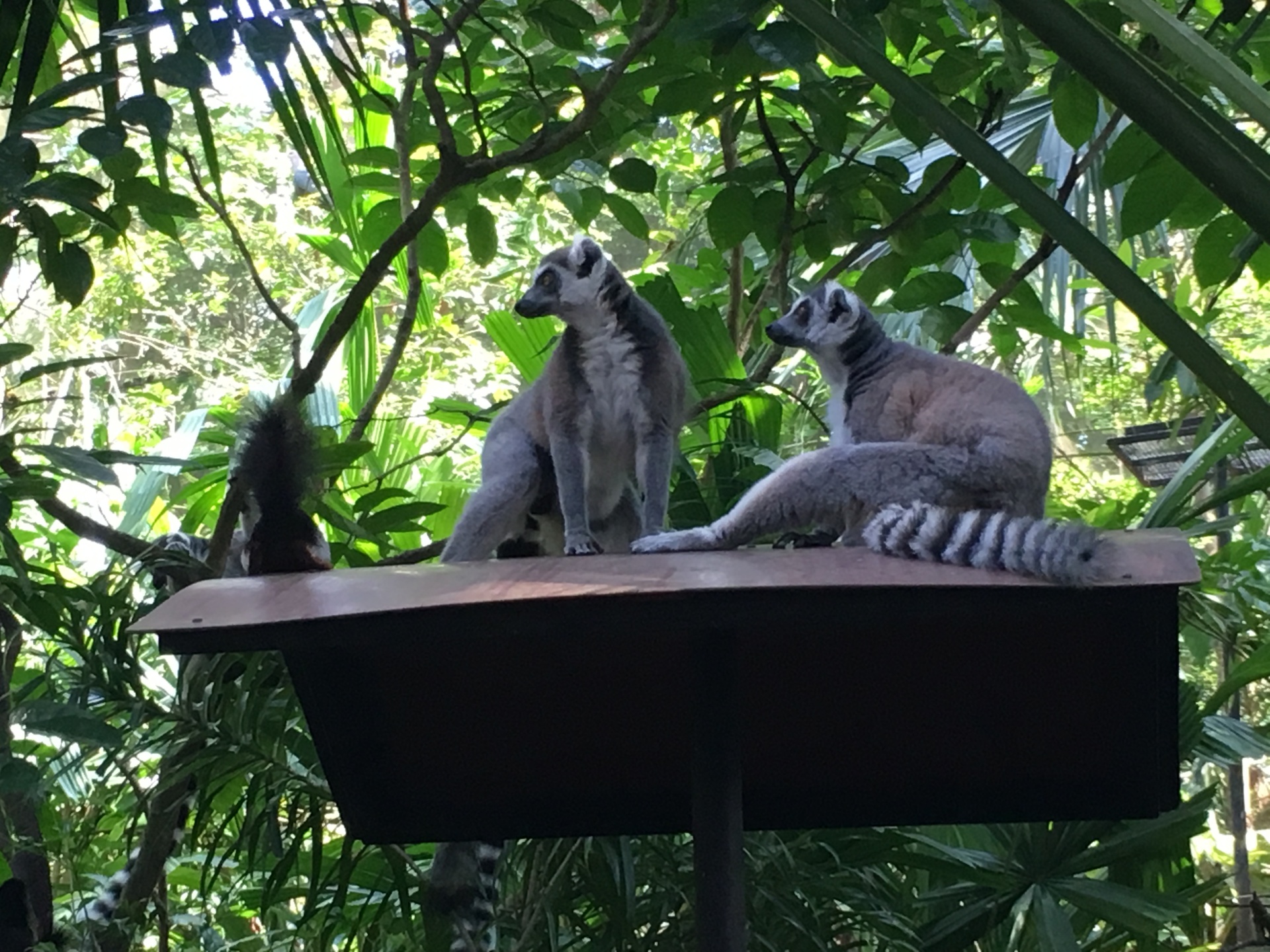 Rhino,

I have never seen one in real life; they were such amazing animals.

 
Chief Seattle, 

I was amazed to see this sign in the Singapore Zoo,  I love the quote. 

​
Lemurs,

  They had lemurs running around everywhere. It was really hard to not take one home!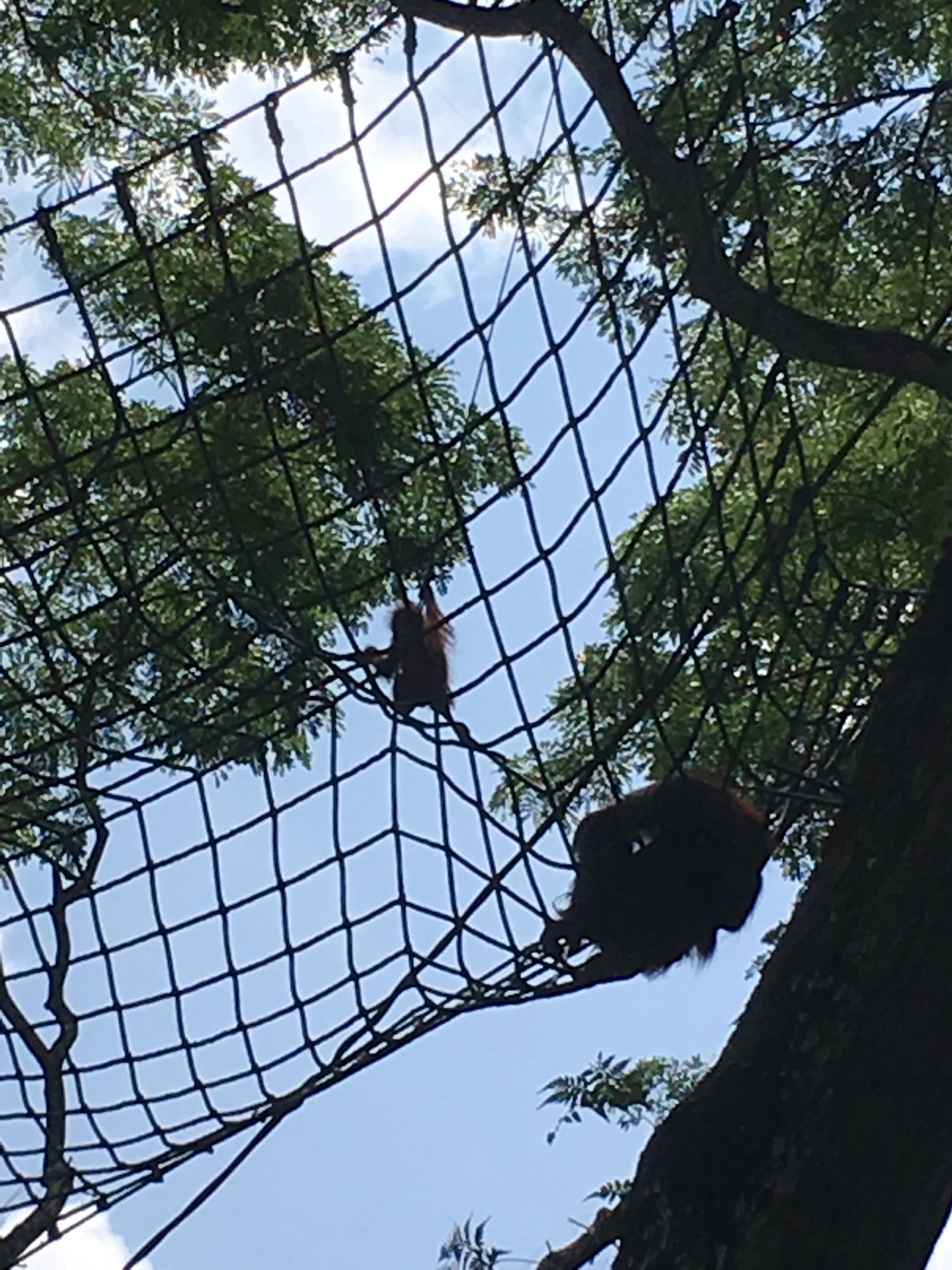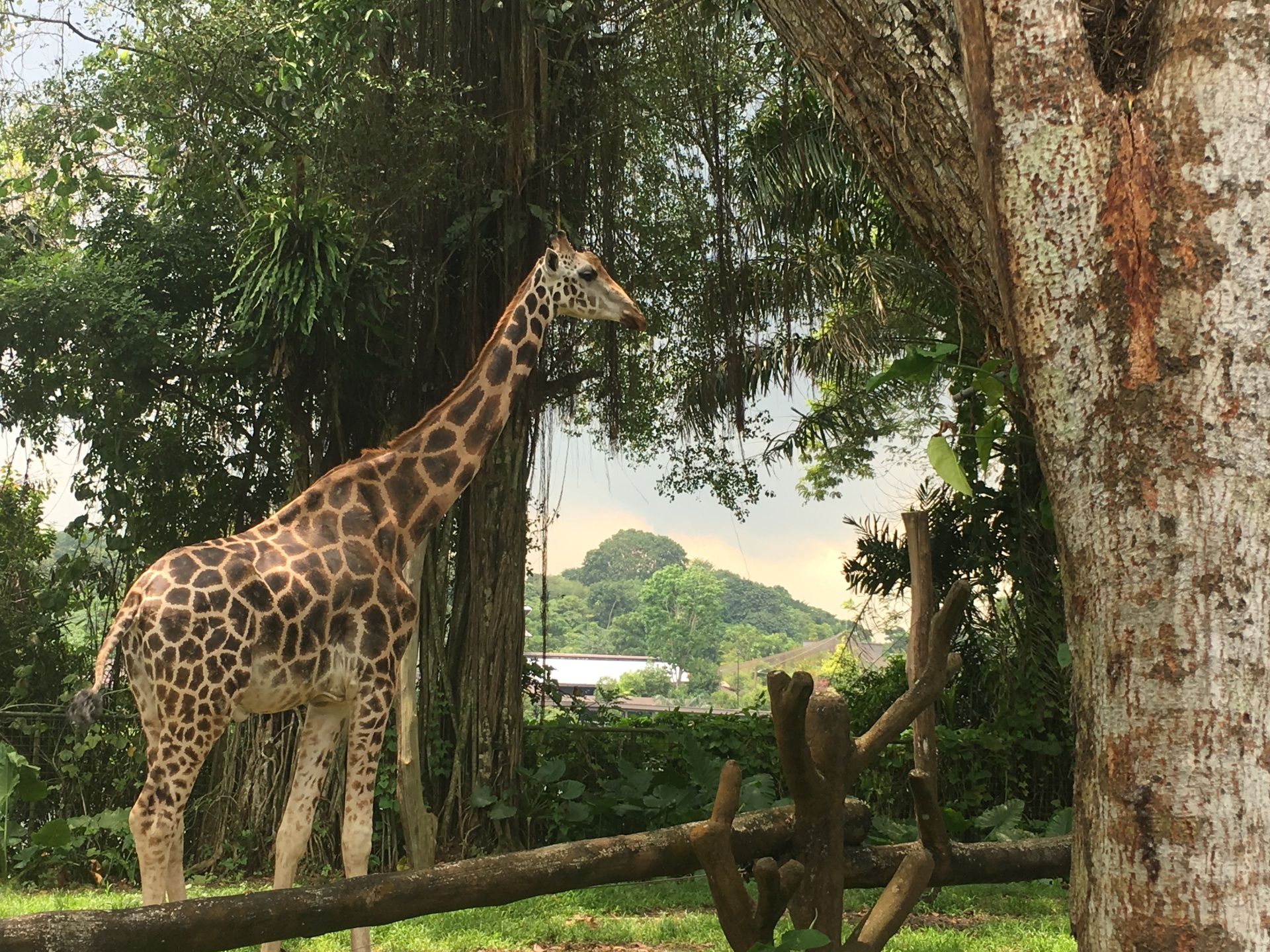 Baby,

Its kind of hard to see but there was a baby orangutan with his mom. The orangutans lived in an "open exhibit" and just lived in the trees above the zoo. This little guy was so cute, I could have watched him all day. 

 
Fast Walking Camel Cheetah,

The giraffes had the most beautiful enclousure. They were able to look our over the water and stretch their legs. This is my favortie photo from the Zoo Trip.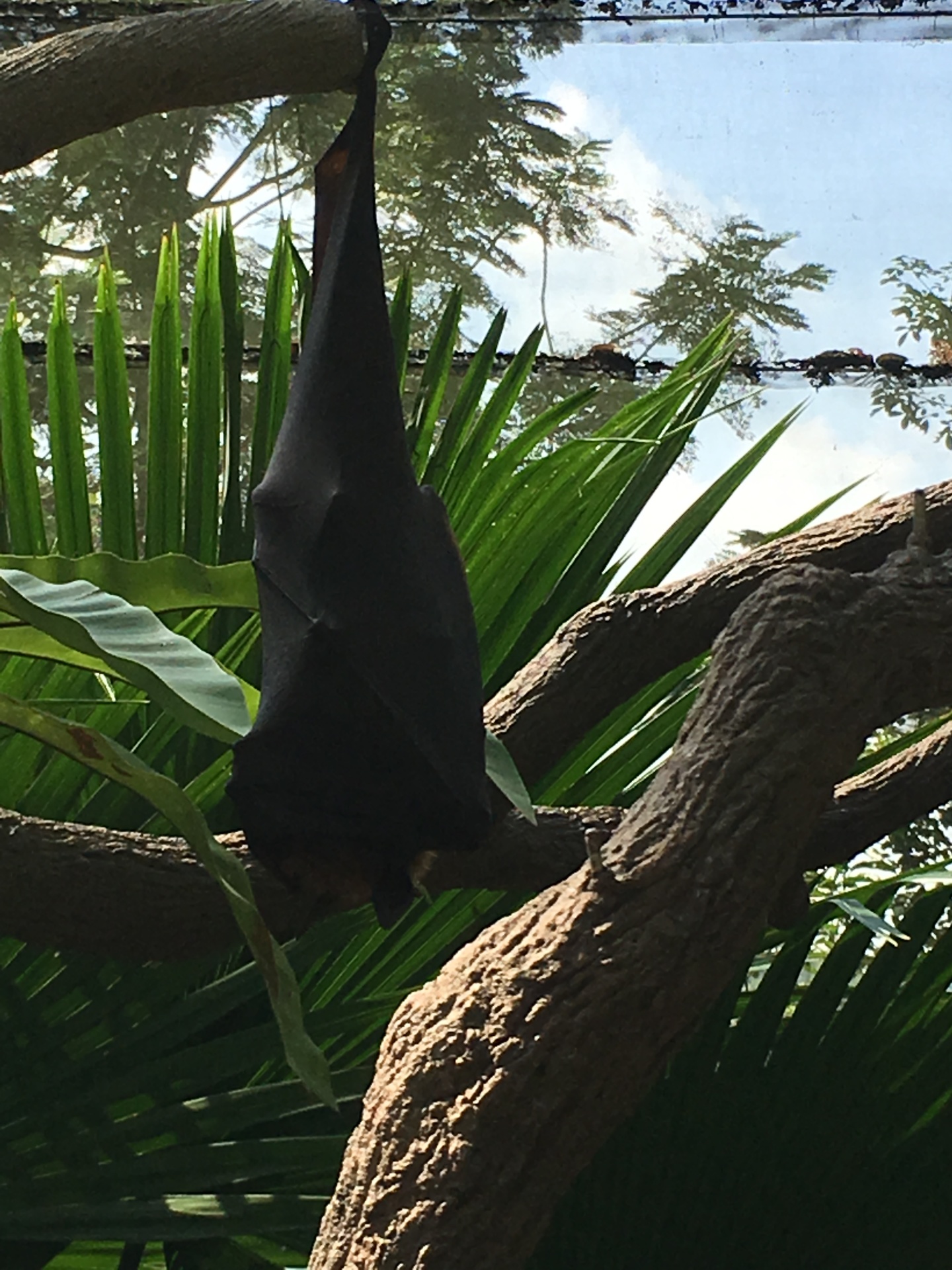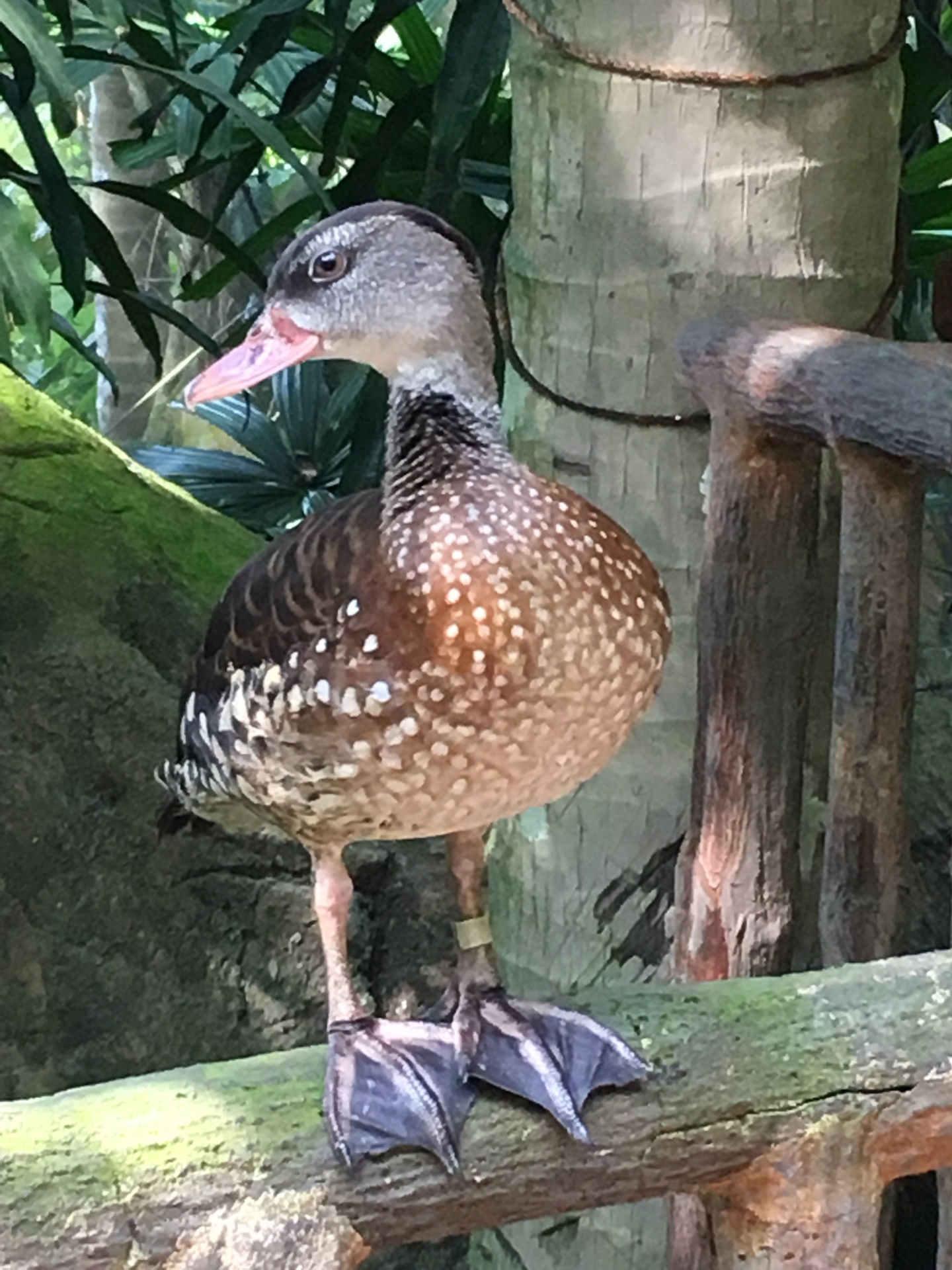 Rainforest Room, 

within the zoo there was one encolsure called the Rainforest Room. You walked into this big, completely enclosed dome, there was about 20 different kinds of animals that lived in there with no cages or ropes. They just roamed freely and you could walk right up to them. There were monkeys and lemurs and rat deers.

The bats where so cool to see up close and they were huge! This guy was probably about a foot tall.

Only I would go to the zoo and get a picture of a duck! But these little guys were so cute and instead of quaking they make a little squeeking noise. They really sounded like a rubber duck being squeezed.

This exhibit was super neat, I went back in there a few times throughout the day.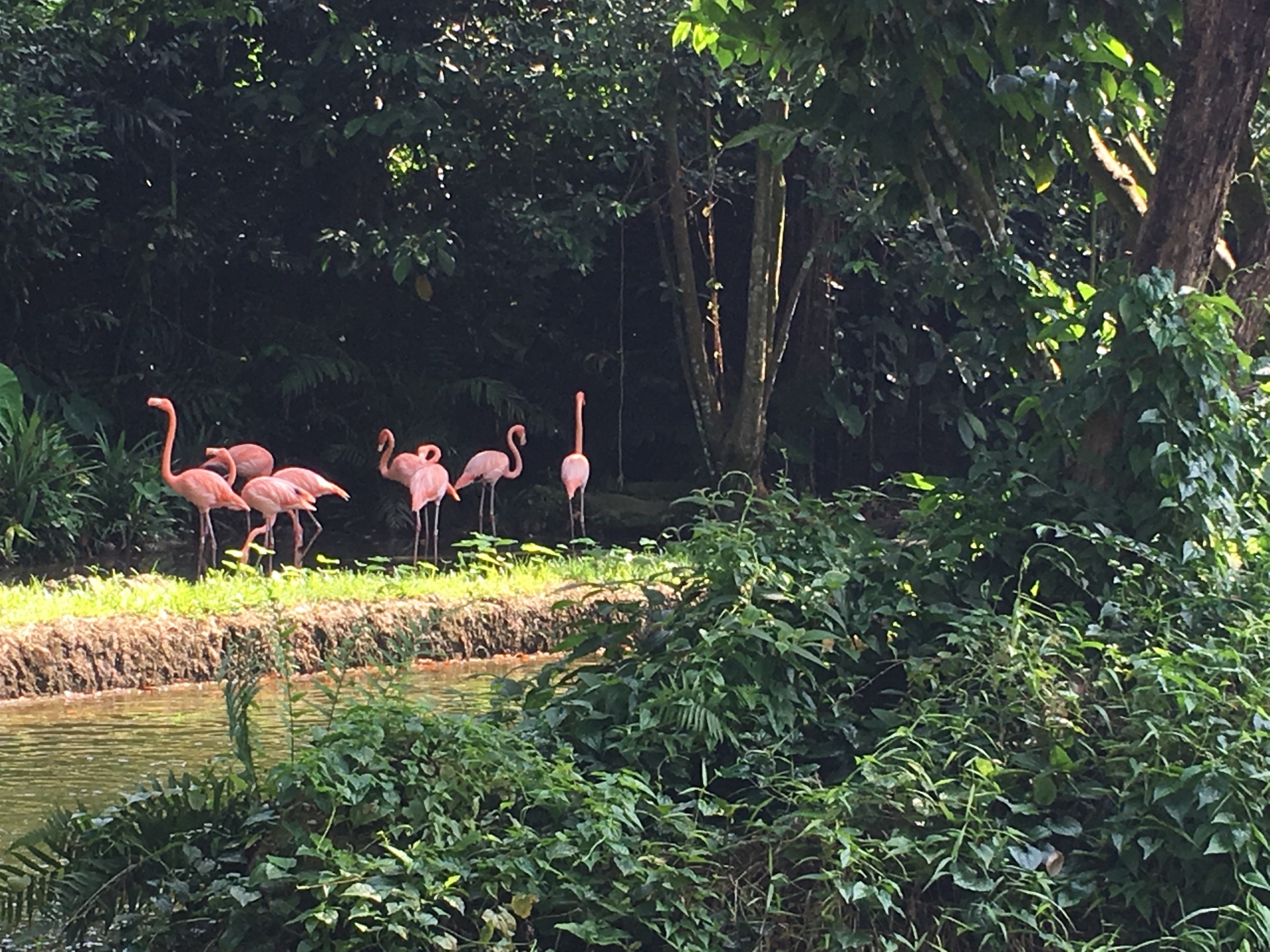 and of course,

Pink Flamingos

for my Mom. 
Day Six: Friday-Nothing, well almost nothing.

And it was glorious!

Everyday up to this point had been jam packed. I wear a fitbit and had logged about 30k steps every day since we got there. It was time for a break. I wasn't planning to literally do nothing all day but that's what happened.
I decided to relax that morning and get a mani-pedi at a place just across the street from my hotel, when I got done it was POORING rain and I got soaked just walking back to my room. I got something to eat in the café in the hotel and went back to my room to wait for the rain to stop. Well it kept raining…literally all day. So, I stayed in my room and read my book until Ty got back from work.
Thankfully when Ty got back the rain calmed down and it was dry enough to do some more sight-seeing.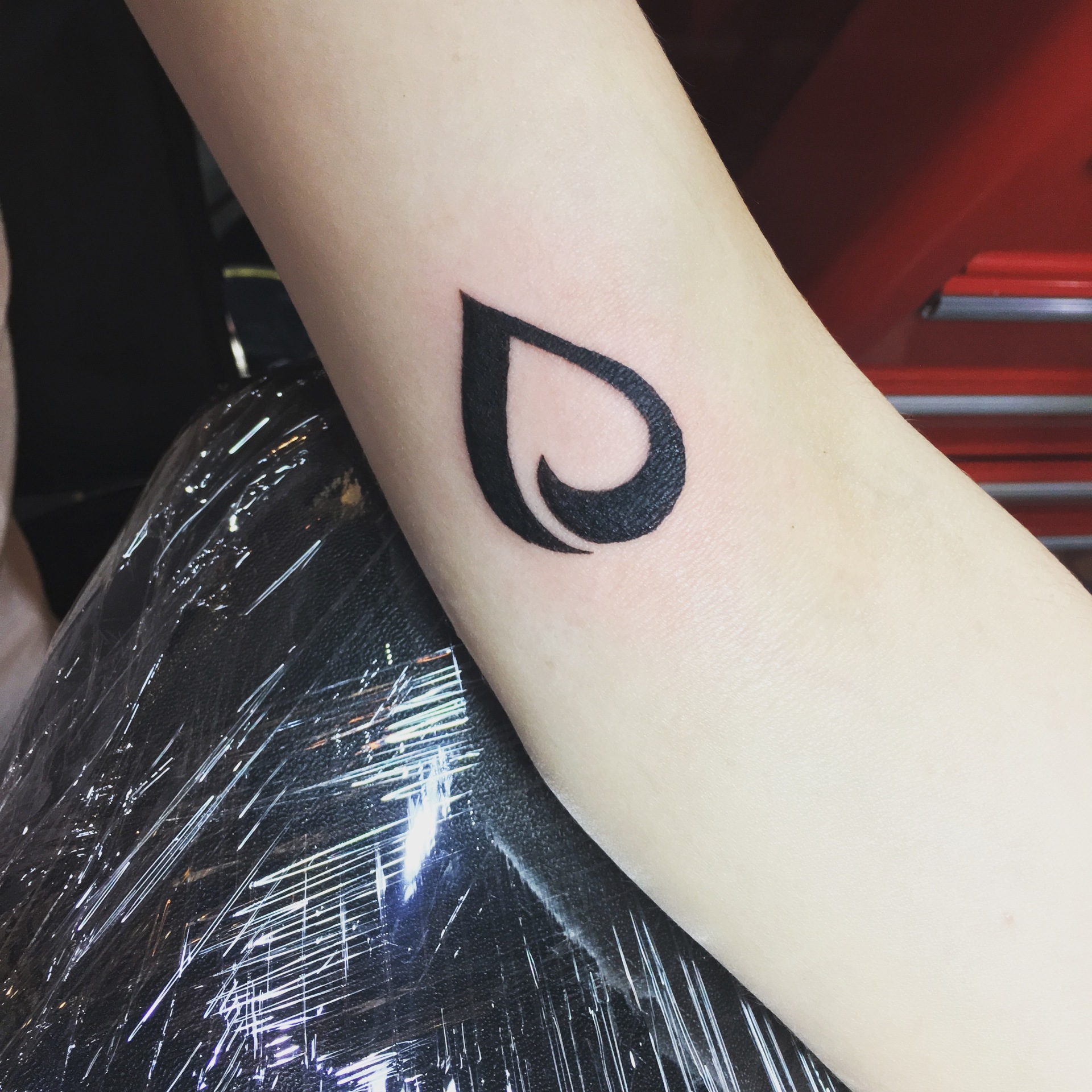 First stop

, we went back to Haji Lane so I could get a permanent souvenir, a tattoo! I don't know why I picked this one, and it doesn't really have a gigantic story behind it but it made me think of being in Singapore while at the same time reminding me of home. I think it sums up my trip pretty well and I love it!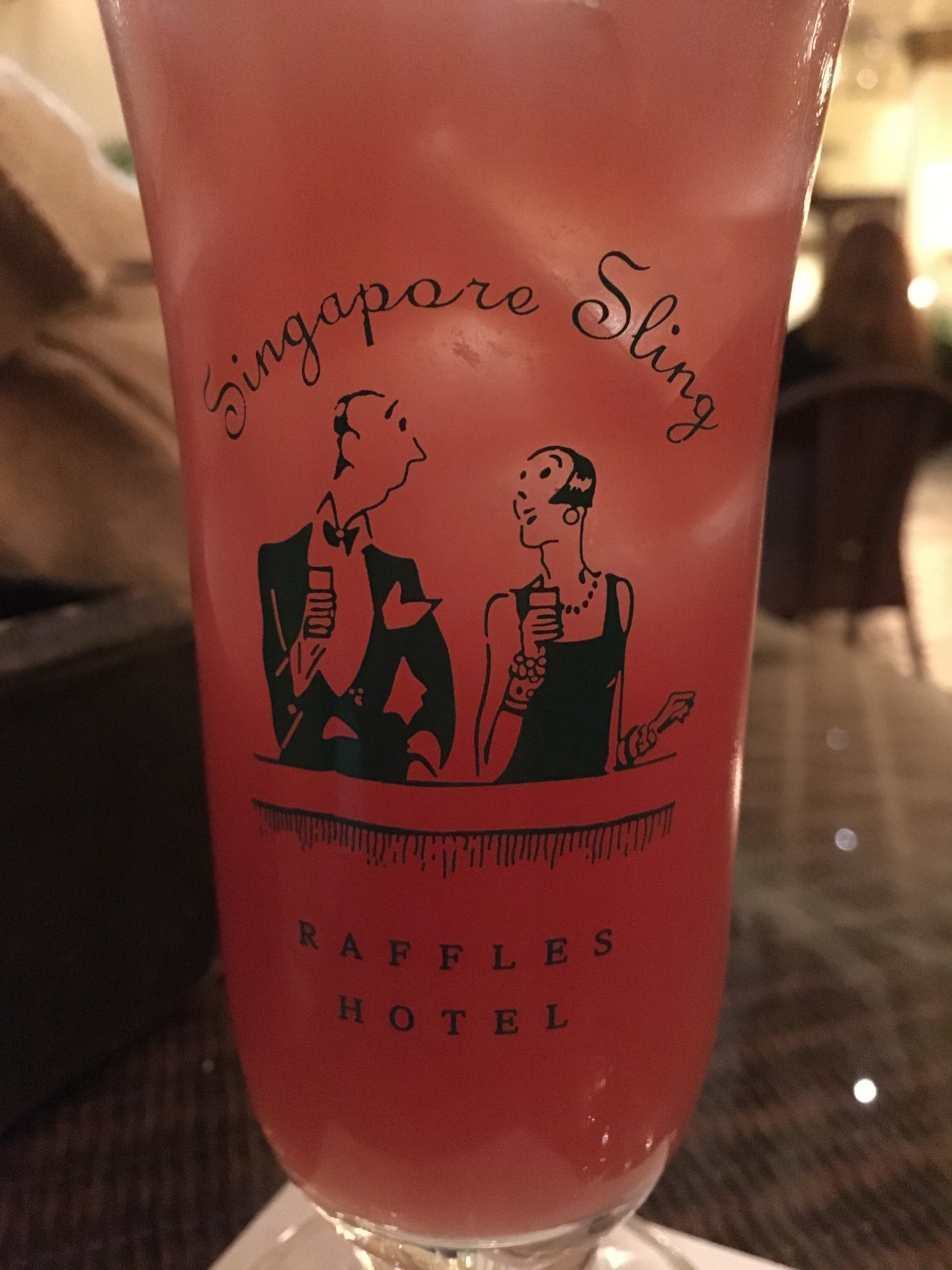 Next,
we were off to find a "Singapore Sling" a drink made famous by the Raffles Hotel. The Singapore Sling is a tropical drink, I think it's pineapple and rum and guava, I'm not positive what was in it but it was so good. However, the bill was a little steep, $60 SGD (so about $40 USD) for 2, yes two, drinks. The most expensive drinks I have ever had!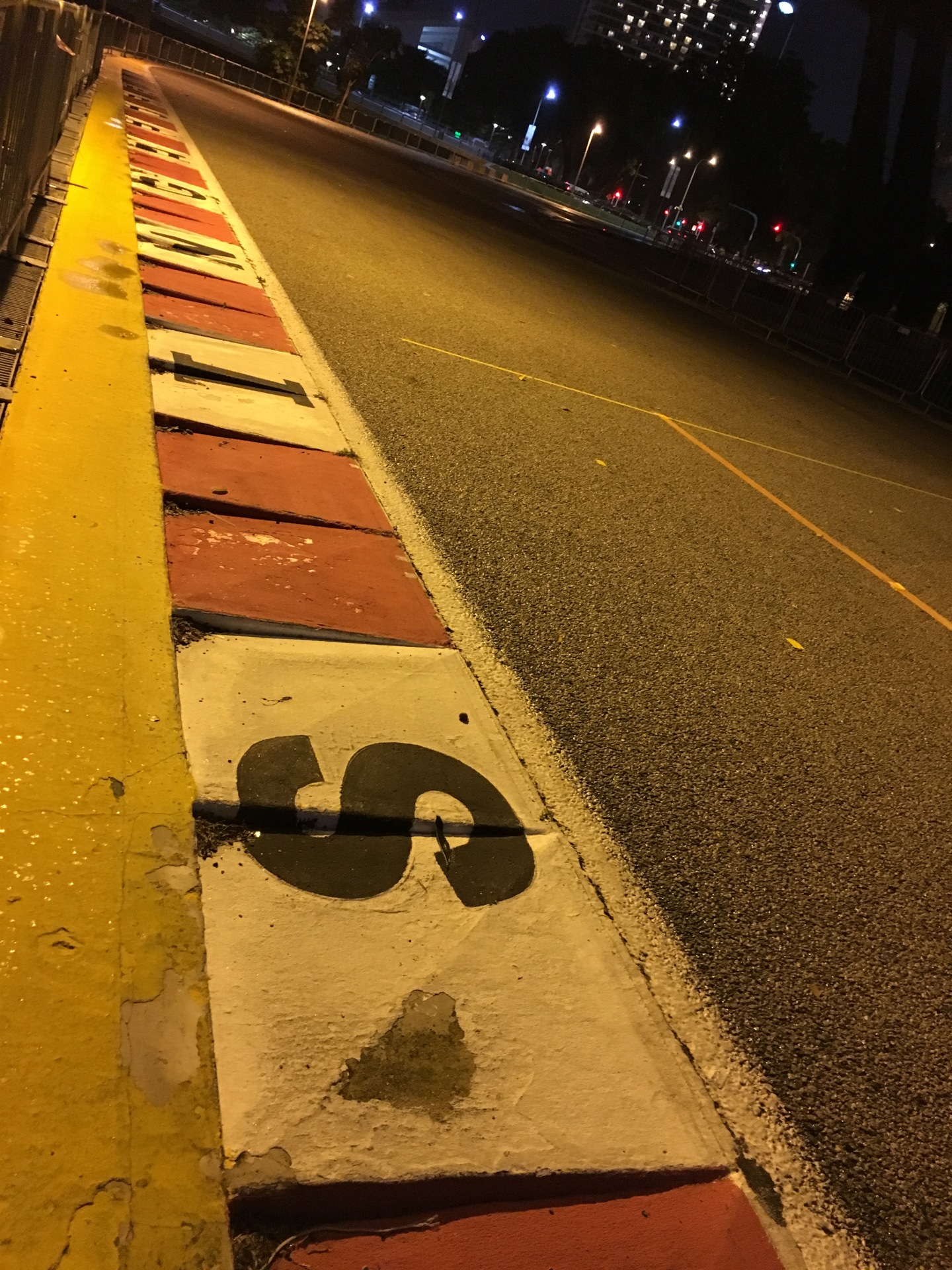 We spent
the rest of the night roaming the city. Ty really wanted to see where the Singapore Formula 1 race is so we went in search of the grand stands. We were able to find where the pit lane is and they even had some of the rumble strips on the street (The Singapore Grand Prix is done on the streets of the city so the entire race course is set up and taken down in less than a week!) Ty was like a 5-year-old. He was so excited to stand on the track (the permanent part at least) and see where all the action happens. Even though I'm not a race fan it was pretty cool to see the track in person.
We finished the night off by getting Korean BBQ (Ty's first time, he was amazed!). We left stuffed and rolled ourselves back to our hotel to get some rest, Saturday was going to be a busy day!
Day Seven: Saturday-Our Last Full Day!

It was so nice

to finally have an entire day to spend with Ty. We had a jam-packed day planned. We got up early got some coffee and headed to Sentosa Island. There is a boardwalk that connects the smaller island to Singapore island. It was such a nice short walk in the sunshine. The entire island is one big tourist attraction, and has a few resorts. The whole place was beautiful and very well maintained. There was a big Central Plaza that lead to the Mer Lion (the big lion of the sea). There was a huge beach on the island as well as a small water park for kids.
 There was so much to do on just this one tiny island, I'm sure we could have spent a few days there.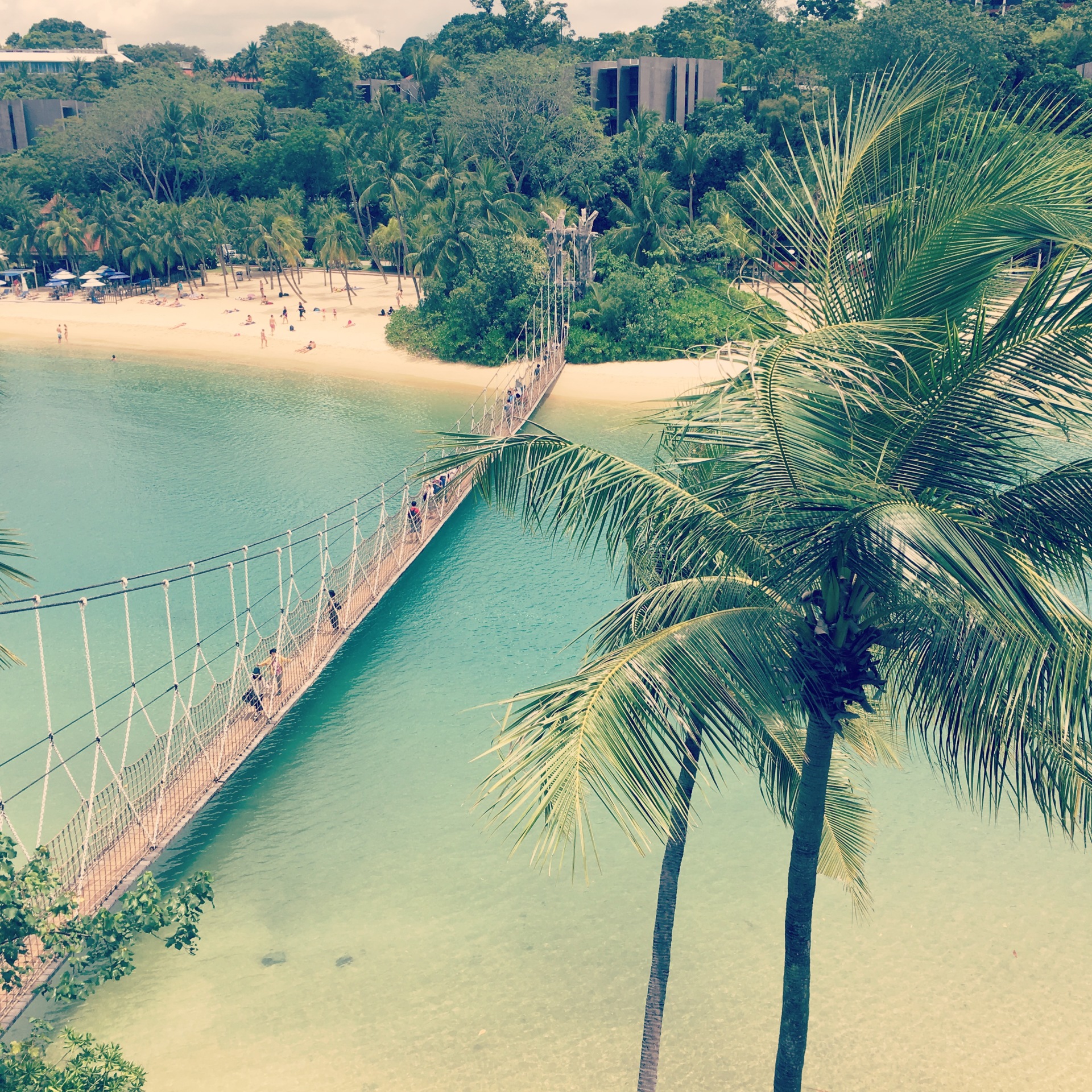 On the beach, there was a rope bridge to another smaller island, that was our first stop on Sentosa. The views were amazing. I think I took 100 pictures just from this one tiny island. It looked like a post card. The bridge was fun but really wobbly so I was a little nervous!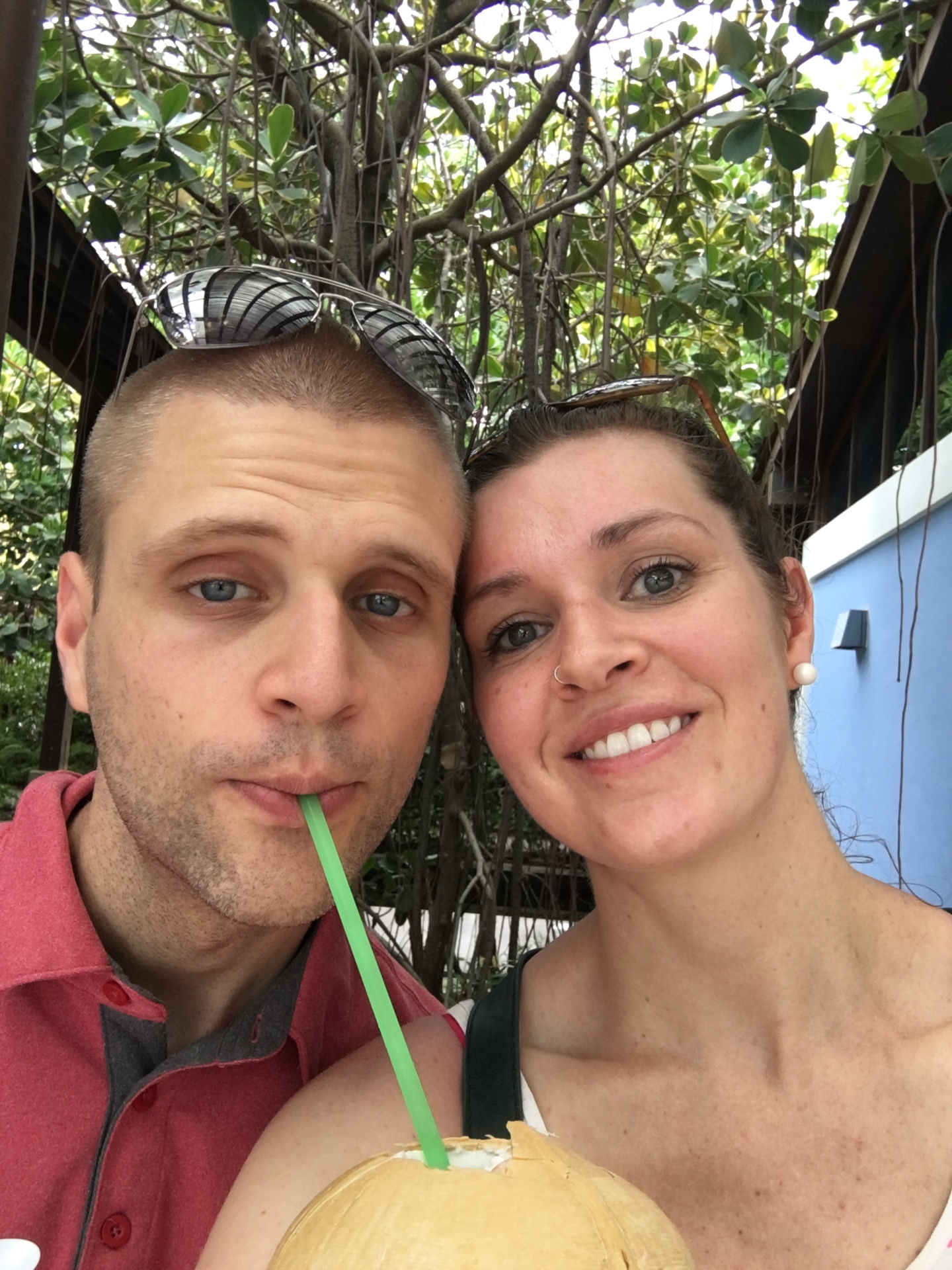 We drank about a gallon of coconut water, right out of the coconut. It was so good and really hydrating in the warm weather. 
Universal Studio Singapore
is also on Sentosa Island. We have never been before and weren't sure what to expect but we ended up having a blast. One of the featured movies was Shrek so they had "Far Far Away Land" which was amazing since Shrek is my favorite movie. The only negative was that it started raining and a lot of the rides were closed while it was raining so we didn't get to do everything but we still had a great time.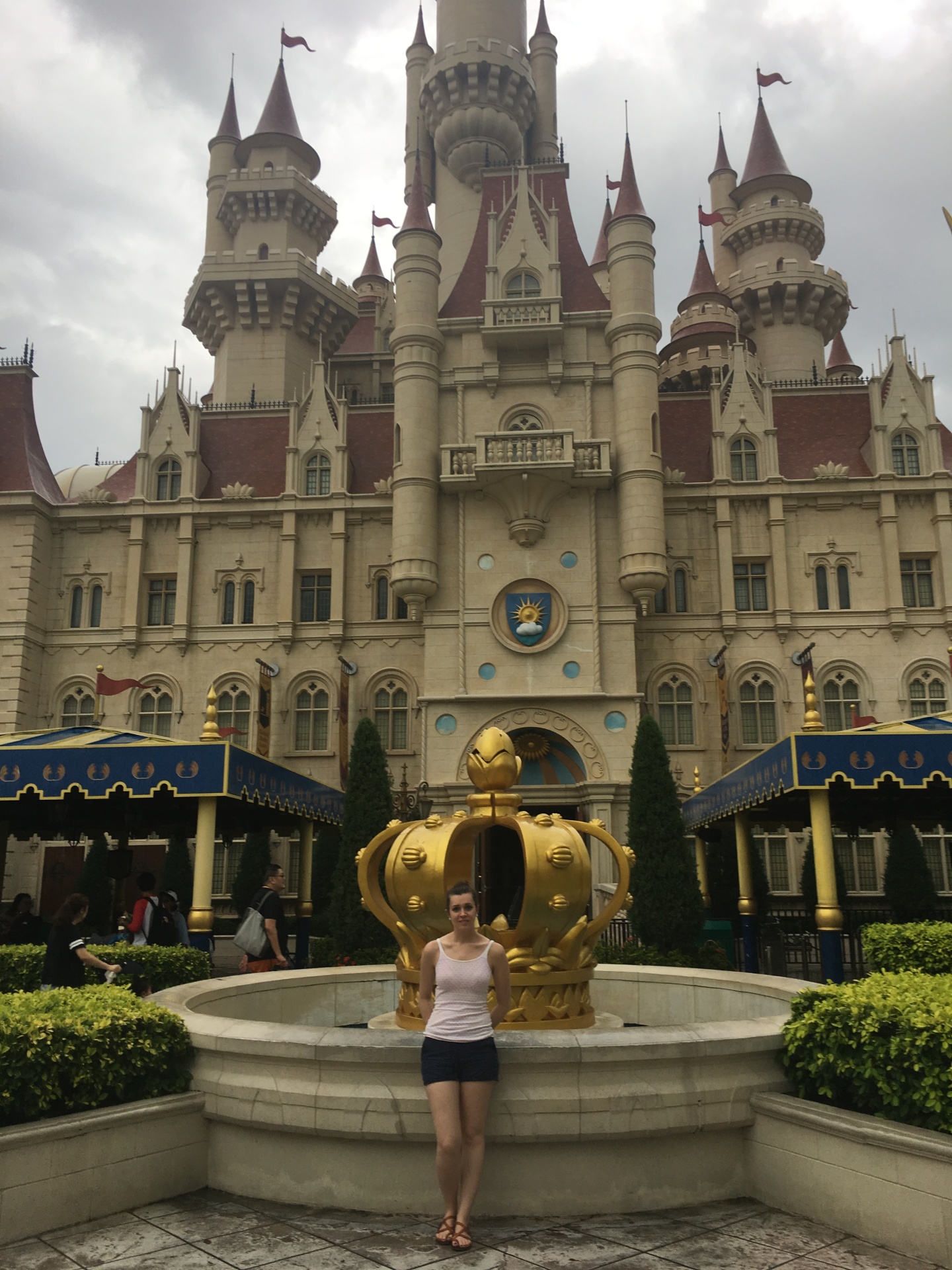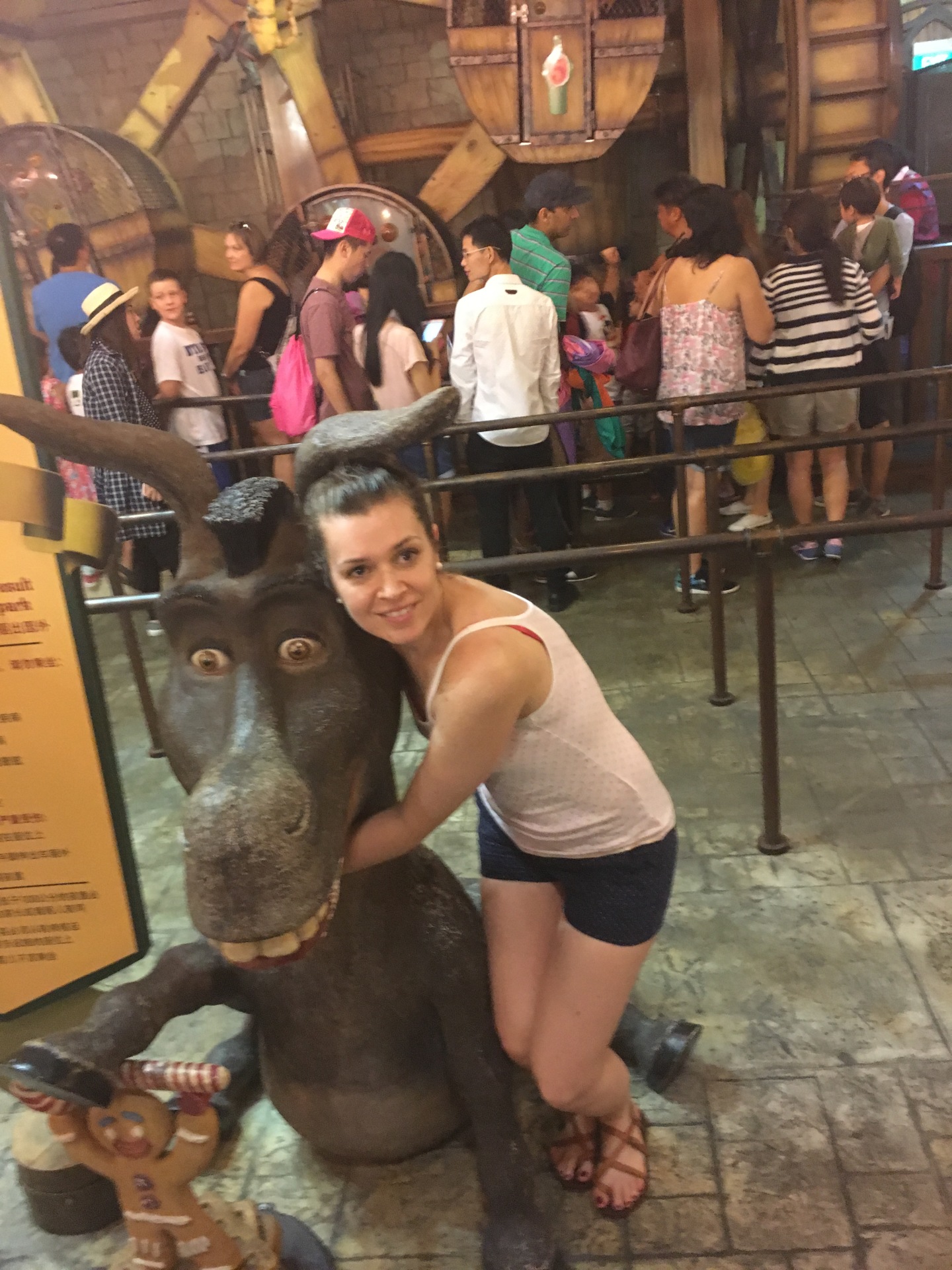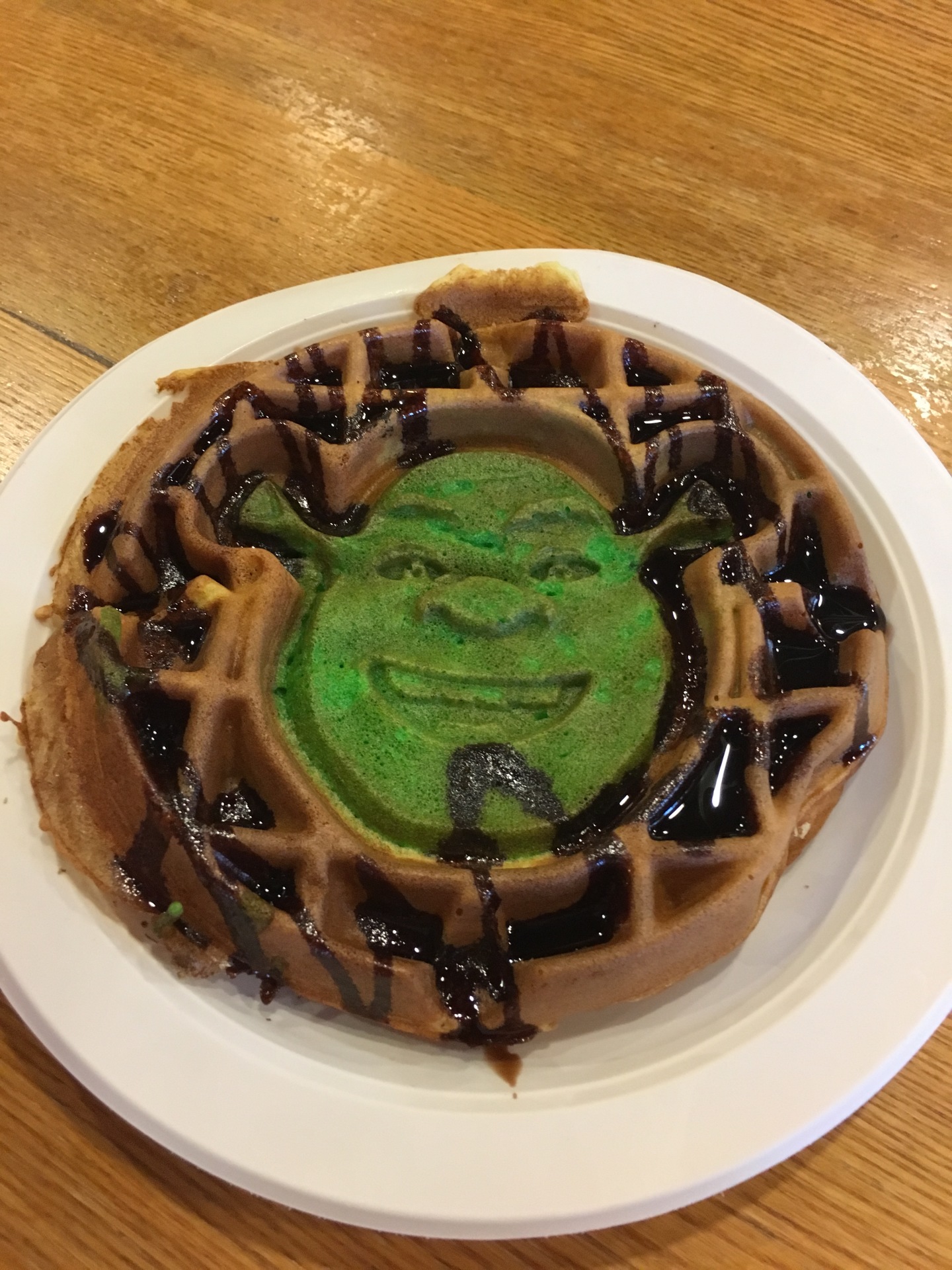 Finally
, the last thing we did on Saturday was the Best! On Sentosa Island they have a "Trick Eye Museum." We had no idea what to expect but it was so much fun. It ended up being a "musuem" where you could get into the pictures. It was filled with optial illusion paitings that came to life when view from particular angle. All of the photos turned out amazing and it was so much fun! You HAVE to go if you ever find yourself in Singapore. People on Yelp review comented it was a little steeply priced at $25 SGD per person but it was worth every penny. Use the green arrows to scroll through and see all the photos!
Relax

Art of Love

Cheater

Back Bends

Not So Tiny Dancer

Hi Ho Silver

scary

Ommmm

walk the plank

Bait

Not my Circus

Creepy

Big

Pretty

Baby
This trip was like a dream.
I wish Ty had more time off to spend time with me, but I'm glad it was a safe city where I could explore on my own while Ty was busy.
Singapore was a great first trip out of the country because they spoke enough English where I was able to communicate and get around but I was still plunged into a whole new culture and life experience that I knew nothing about.
The entire city was very clean (the mopped the sidewalks every day!) and it was so peaceful even in the heart of the city. Because of the Islands geography this trip offered a little bit of everything, City sight-seeing, relaxing beaches and some major tourist attractions. I cannot recommend this trip enough.
Have any suggestions on where I should go next? I'm already dreaming of our next vacation!